my relationship is solid----Stephanie Okereke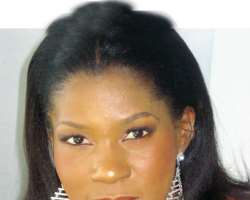 Nollywood A-list Actress Stephanie Okereke was recently in the press with negative perceptions about her engagement to Chief Executive of Del-York International Linus Idahosa.
According to her P.R management: 'Stephanie Okereke is engaged and scheduled to be wedded to Linus Idahosa of Del York International. The wedding and marriage plans are going along smoothly and on schedule. We are officially dispelling any news to the contrary'.
"My finance's family and I are very close that the issue of not wanting the relationship is absolutely false. I really do wonder how these stories get started. For the record, my relationship is solid. My finance's parents are wonderful people who are very much happy with our relationship. I hope I don't get to address this issue ever again"- Stephanie Okereke