Gani Adams hosts Yoruba movie producers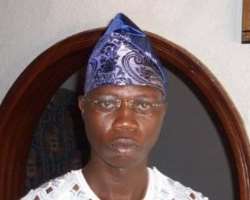 FACTIONAL leader of Odu'a People's Congress (OPC), Gani Adams, recently played host to members of the Yoruba Video and Film Marketers and Producers Association of Nigeria (YOVIFPAMAN). At the event, YOVIFPMAN commended Adams for his efforts at projecting good image of Yoruba people at home and in the Diaspora.
The delegation also expressed displeasure at the activities of pirates and the lackadaisical attitude of government and its agencies in the fight against them. In his response, Adams promised to intervene in the matter. Adams, who is the patron of the association, said he would meet with the agencies involved to find lasting solution to the problems enumerated by the association.
He said the association must also create a forum to discuss the issue of $200,000,000 grant released to the entertainment industry and urged the leadership of YOVIFPAMAN to identify ways their members could access the funds. He also called on members of the association to invest in the production of movies that would promote the cultural heritage of Yoruba people.