SEE WHAT'S ON SALE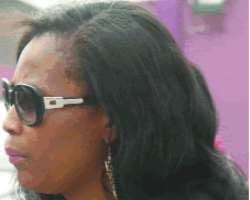 C-caution
This is contrary to Section 345 of the 1980 constitution. At least you should have placed the C-caution sign on the road to avert the chaos you caused with this. You have been found guilty and fined N1.5million.
Awkward
We couldn't help admiring your outfit when we caught a glimpse of you but when we took a second look we knew you weren't as pulled together as we thought. For committing this style crime pay a fine of N800, 000.


 
 
.


 
 
Desperate
Section 235 subsection 34a says ' never wear anything flimsy to a formal or similar occasion'. But my dear, you got it all wrong because that material you have on is rather too desperate for our liking. We hereby confiscate your mini dress and warn you never to try that again. Pay a fine of N2.5million.


 
 
Tits nite-out
Girlfriend, baring it all doesn't make you more fabulous. You have really proved beyond reasonable doubt that you are well endowed and we are not arguing over that. But we find it unfashionable when you let your girls hang freely in public . For flagrantly flouting the law, you are to remain in our custody until you have been able to meet bail conditions. Present two sureties from among gubernatorial candidates in the next election and pay N2million.
.


 
 
Breast release
Madam, is this a breast release (oh sorry press release we meant) for public consumption? Haba! If you keep dishing out what is not meant for public consumption , don't you think that would be harmful to the public ? We hereby hand you over to SON which will send their recommendation to us. We hereby adjourn until 10th of February 2011.


 
Ruined
You got us so angry, because you flaunted your bra straps publicly. This is highly unacceptable in this jurisdiction. However, since you are a first time offender and because you carried yourself so well, we will temper justice with mercy. So we say, your sins have been forgiven.