Ogun 2011: … As OBJ, Abiola rekindle rivalry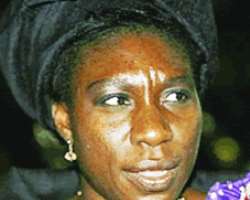 Iyabo Obasanjo
Old rivalries between the winner of the June 12, 1993 Presidential election, the late Chief M.K.O. Abiola and former President Olusegun Obasanjo may be rekindled, as daughters of the two illustrious sons of Egbaland, fight over the senatorial tickets of the ruling Peoples Democratic Party (PDP). Hon. Lola Abiola-Edewor and Senator Iyabo Obasanjo -Bello are two prominent daughters of Egbaland who are squaring up against each other.
Abiola-Edewor had contested and won the senatorial primaries for Ogun Central Senatorial District conducted by the party last Friday, defeating Iyabo Obasanjo-Bello and several others. Obasanjo and Abiola are two sons of Egbaland, with the former hailing from Owu and the latter from Gbagura axis of Abeokuta, the state capital.
Before politics put them asunder, both Obasanjo and Abiola were best of friends dated back to their days at the prestigious Baptist Boys' High School, Abeokuta even though Obasanjo was much more older. Moral and financial assistance were said to have been offered by Abiola to Obasanjo whose upbringing was said to have gone through several hiccups.
The cordial relationship continued with Abiola paying obedience, loyalty and comradeship to his senior, Obasanjo until the late business mogul contested and won an election which has become a watershed in our political history. Although, Abiola won against all odds, his victory was annuled by the military-president of General Ibrahim Babamosi Babangida in controversial circumstances that later led to violent, particularly across the South-West geo-political. While the political crisis that the annulment generated lasted,
Obasanjo was credited with reports where he was alleged to have said that Abiola, his kinsman was not the messiah that the country needed. The statement did not only infuriate Abiola, but his thousands of supporters who chided Obasanjo for his attempts at disparaging his kins man. The eventual death of Abiola in detention in 1998, and the emergence of Obasanjo in 1999 as the President further strained the once cordial relationship between the children of the two Egba prominent sons.
The latest political shenanigans is the allegations by eldest daughter of the late winner of the June 12 1993 election, Lola that there were moves by some people in some quarters whom she described as enemies of democracy to annul her mandate for the Ogun Central Senatorial District of the Peoples Democratic Party (PDP). However, she has vowed to resist the moves adding that she had it on good authority that there were clandestine moves in some quarters to substitute her name with that of the daughter of former President Olusegun Obasanjo, Senator Iyabo Obasanjo-Bello.
Her words: 'We won't allow injustice. We will go to any extent to challenge it. My father stood his ground and died. It is my mandate. I have my certificate signed by the chairman of the election panel and the observers. The certificate is with me. We will take this to a logical conclusion. They should stop picking unpopular candidates for this party; that is why they are losing states all over the country because they picked unpopular candidates.
'Nobody will ask me to step down. My father did not step down.' Omo akin ni mi (I'm a fearless and brave child). And he died instead. I, Omolola Abiola-Edewor, by the grace of God will not accept injustice. We will take it to any length. What did the Abiola family do to offend them? What did Abiola do to them? They cancelled my father's election, now they want to cancel my own. This will be their last attempt. It will never happen. Those who killed my father cannot kill me and if they want to kill me, I'm waiting for them.'
The former lawmaker at the House of Representatives on the platform of the Alliance for Democracy(AD) wondered why the daughter of the former President should be treated with undue favouritism. 'This is the designated spot (MKO Abiola Stadium) for election; that is where we did governorship primaries today. This is where we held the senatorial election (on Friday) and Iyabo Obasanjo refused to show up.
Iyabo Obasanjo recognizes the exco of this party and she got screened at the PDP Secretariat here. Since she subjected herself to screening there, she must subject herself to voting here. She refused to come and obviously, she still has some people (supporters); she got three votes. We will not accept it. They have killed my father, they have annulled June 12, they better come and kill me too.' Senator Iyabo Obasanjo-Bello who reacted through one of her Aides said she would not want to join issues with Lola-Edewor.
What do you expect her to say in this circumstance. He or she who alleges must prove. If she has any documentary or verbalevidence, let her come out with them. I think the problem with some of our politicians in Ogun State is that they always seek relevance and are also afraid of their shady deals and pasts.''