Together, we'll realise Nigeria's dreams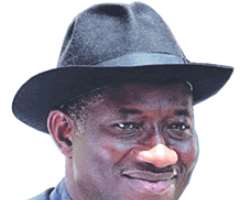 Protocol
About eight months ago fate beckoned on me to take up the mantle of leadership from our late leader, President Umaru Musa Yar' Adua and to honour his memory by striving to sustain the dreams that we all shared with him for a vibrant Peoples Democratic Party and a prosperous and peaceful nation.
Last September I declared my interest to seek the nomination of our party to contest for the Presidency of our great country. I asked for your support so that together with Vice President Namadi Sambo and with your continued goodwill, we will secure a fresh mandate to confront the many challenges that are before our nation. I asked for your trust so that we can continue to expand the political space, promote greater democratic culture and unite our nation for rapid progress and speedy transformation.
In the past months, within our party and around the nation, we have witnessed a campaign of unusual intensity within an unconstrained political space and today the Peoples Democratic Party has spoken with one strong voice.
It is with great humility that I accept the monumental mandate which you have handed over to me as the Presidential flag bearer of our great party. This mandate is unique as it makes a decisive statement in the history of our great nation. This statement is that our people have chosen the unity of our country above all other considerations. It is a quantum leap into the great ideals to hold our great nation together. I promise all Nigerians that I will within my powers not disappoint this umbrella of unity you have entrusted on me today. I will carry this banner to all the corners of our great country to make sure that the essence of this unity is not lost on our people.
We thank God for making this day possible.
I thank all the delegates to this convention for the confidence you have reposed in me. I assure you that I will never let you down. I also thank all the members of our great party across the country for the role you have all played in influencing the choice that have been made by the fourth Presidential Nomination Convention of this party. I thank you all.
I am very grateful to the DG of my campaign team Alhaji Dalhatu Sarki Tafida and members of the Jonathan/Sambo Campaign Organization for the great work that has been done to convert the will of the Nigerian people into delegates' votes. I thank the convention organizing committee for organizing a secure, transparent, free and fair convention. Let me specially acknowledge the effort of my hard working and amiable Vice President, Architect Muhammed Namadi Sambo, a strong, reliable and trusted ally. I hereby reaffirm Architect Muhammed Namadi Sambo as my running mate for the forth coming Presidential election.
This victory is not for me alone. It is not just for Sambo and our supporters in PDP. It is a victory for PDP members and indeed all Nigerians because it takes us one step closer to the Nigerian dream of national transformation.
Let me very respectfully pay special tribute to Mrs Sara Jubril and Alhaji Atiku Abubakar, who all fought gallantly. I believe that the very lively presidential primary has prepared the Vice President and I and indeed the entire party for the forthcoming general election. I want to welcome Mrs Jubril and his Excellency Alhaji Abubakar on board so that together we can build a Nigeria of our collective interest. A Nigeria where ideas guide our dreams for a greater nation.
This is the time for the party to move forward in unity to bring this country under the PDP banner and gain the electoral victory that we need to better serve our nation.
This country has many challenges and our polity certainly needs reform. Our economy needs to be strengthened, opportunities need to be spread and security needs to be improved. Only a national party can lead us through the national transformation Nigeria needs. Today, that national party is our party the Peoples Democratic Party (PDP).
These are uncommon times in the history of this country. The challenges that confront this country are enormous but the opportunities available to us are even more. It is our responsibility as the ruling party of this great country to listen to Nigerians and move in the direction that the people expect us to go.
Nigerians want peace and security and we are determine to provide it.
Our party must convince Nigerians that we have a plan for national security and that we can cover the entire country in that plan. We are shedding the politics and corruption of the past that has held us down for too long and have formulated the strategy and team to transform Nigeria.  It won't always be easy, but our momentum is strong and our vision for Nigeria is clear: through an improved power sector, stronger educational system, better security, and policies that promote Nigerian business development and jobs.
Nigeria will play big globally as we approach the year 2020.
Nigeria has the talent, skill, determination and passion to reach this ambitious – but achievable – goal. And our administration led by the Peoples Democratic Party has the right priorities and strategy to make it happen.
Let us seek the Nigerian peoples mandate together as a united party and pursue the affairs of good governance for the next four years. This is more than a set of policies or new ideas – it is about all Nigerians joining hands to turn the page.
Together, all party members, activists and people of Nigeria can work to win the forth- coming elections at all levels.
I Thank you all and God bless you.