HARRY AKANDE, ANPP PRESIDENTIAL ASPIRANT, SUBMITS NOMINATION FORM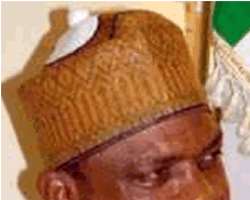 Ahead of Saturday' convention of the All Nigeria Peoples Party (ANPP), a presidential aspirant, Chief Harry Akande and Yobe State governor, Mallam Ibrahim Gaidam, who is also aspiring for second term in office, submitted their nomination forms at the Party's secretariat, in Abuja, yesterday..
Akande expressed the optimism that he would emerge the presidential candidate of the party because he is a loyal party man. He boasted of his wide acceptance and the belief that he could win in the general elections.
Giving reasons why he was in the race, Akande said; 'I want to give back to the country what it had given me. I am in politics not to make money because God had helped me in that regard. I am in politics not for publicity because a lot of Nigerians know me. I am in politics to improve the lots of the common man.
'Poverty in Sokoto and Gombe States is the same with that of Ekiti, Osun, Enugu and Anambra States. ANPP is a party I belief in. It is a party that produced all the big names in the nation politics. I can't leave ANPP because of a crack.'
He also expressed the confidence that the delegates would vote for him massively at the convention to fly the flag of the party during the presidential election adding that he had been praying to God not to make him president if he would not touch the life of the common man in Nigeria. 'If we join hands, with the calibre of the Chairman we have, our party will make history in 2011. I will support whoever emerges from a free, fair and credible primaries.'
Receiving the forms from him, the party's National Chairman, Dr. Ogbonnaya Onu assured Akande that all aspirants had been given a level playing field, saying, 'The Convention Committee chairman, Chief John Oyegun has also assured of a credible convention. The screening committee will do everything possible to present credible people for the contest. Onu commended Akande for his immense support to the growth and development of the ANPP and urged him to continue.
While submitting his form, Yobe governor, Mallam Ibrahim Geidam said his achievements during his first term in office were enough to sway the votes to his side during the gubernatorial election. Onu called on the people of Yobe State to continue with the confidence they had given to the party in the last 12 years.
'ANPP is an opposition party but in the last 12 years, we have been taking control of Yobe State. The people will attest to the developmental projects that are taking place in the state under this administration. ANPP will never fail you,' Onu stated.