No going back on one man, one vote - Jonathan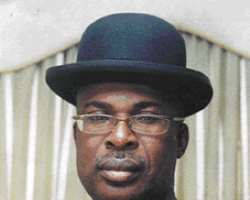 President Goodluck Jonathan yesterday in Yenagoa declared that there is no going back on the one-man, one vote in the 2011 elections.
He also challenged Nigerians to ensure that their votes count by protecting their votes after elections to avoid malpractices.
Jonathan who spoke after the landslide victory of Governor Timipre Sylva in the state gubernatorial primaries held at the Samson Siasia Sports Complex stated that he came personally to vote and refused to leave to defend his vote to demonstrate his administration's commitment to a credible elections in the general elections.
His words: 'We are preaching one-man, one vote and I came here to vote and sat throughout the elections till the winner was declared to defend my vote. Even when the sun was beating me, I did not go because I want to protect my vote. In the 2011 elections we don't want to hear stories of ballot snatching. Nigerians must vote and ensure that they defend their votes' Sylva polled 420 delegates votes out of the 481 votes defeated eleven other delegates to emerge the PDP governorship candidate.
Checks indicated that other aspirants who had concluded plans to shun the election over allegations that Sylva had hijacked the delegates were encouraged to participate when they were assured that Jonathan would personally vote as a delegate and witness the primary. Signs that the elections would be transparent was noticed with the presence of heavily armed soldiers and Police who cordoned off all the access roads leading to the Sports Complex and mounted security at strategic locations in and around the venue.
The aspirants which included Sylva, Francis Doukpola, Fred Agbedi, Youpele Kalango, Frec Ekiyegha, Deinyebofa Dimaro, Hinks Dumbo, David Obuma, Tarila Tebepah, Christopher Enia and George Ombeh were presented to the delegates. Voting started at 1.30 pm and ended 3pm with counting commencing immediately by the electoral panel led by Alhaji Bature Garba. Doukpola emerged a distant second with 10 votes, while Agbedi polled 8 votes as a distant third.
Sylva who was magnanimous in victory declared that there was no victor no vanquished and dedicated it to God and President Goodluck Jonathan. He commended all the aspirants who contested with him and urged them to accept the result with equanimity. According to him there is a big task ahead of the PDP as the party must ensure its house is not divided as it goes into the 2011 elections. Sylva who immediately nominated the Deputy- Governor, Werinipre Seibarugu as his running mate disclosed that he would relocating to Abuja ahead the Presidential primaries to ensure victory for Jonathan.
He reiterated the support of Bayelsa delegates for Jonathan, adding that what has happened with him winning the governorship primaries is what would happen in Abuja on Thursday January 13 with Jonathan emerging the Presidential candidate of the party.