ENUGU: COURT REJECTS ATTEMPT TO REMOVE NWODO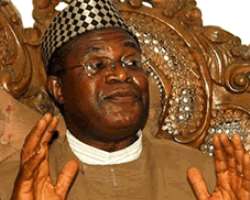 •Nwodo
An attempt by the Governor Sullivan Chime's faction of the Peoples Democratic Party(PDP) in Enugu State to remove Dr. Okwesilieze Nwodo as national chairman of the PDP through the court failed yesterday as the court turned down the request to declare Nwodo unfit to lead the party.
The court also refused to grant an exparte motion seeking to restrain members of the newly elected State Executive Committee of the PDP in the state led by Okey Ogbonna from functioning in its present capacity and to declare the congresses that produced the new executive as a nullity.
In an application filed by Tony Ani on behalf of 15 plaintiffs from the governor's camp before an Enugu High Court presided over by Justice Benedict Agbata, the applicants sought an injunction of the court to restrain the defendants, Dr. Okwesilieze Nwodo and the PDP from tampering with the Vita Abba-led executive of the party, which had since been dissolved by the party's national leadership.
The applicants specifically asked the court to restrain Nwodo from parading himself as the PDP national chairman on the ground that he was not fit to occupy the top party position, while praying that the ward, local government and state congresses of the party held by the Nwodo group on December 28, 29 and 30 respectively be declared null and void.
But when the application was formally moved in court yesterday, Justice Agbata wasted no time in rejecting all the prayers, as he sternly warned that he would not tolerate any ex-parte application on such a sensitive matter, more so when the defendants were not put on notice.
Justice Agbata, who adjourned the matter to January 14 to enable the applicants serve the defendants through substituted means, recalled that such an ex-parte application had led to the sack of a judge of the state High Court in the past and would therefore not tolerate such in his court.