MY LUCKY ESCAPE FROM RITUALISTS, BY OKADA RIDER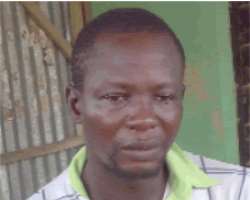 •Musibau
Saheed Musbau would have been dead by now. Not just dead, some parts of his body would not have 'rested in peace', as they would have been cut off for rituals, either to acquire political power, for stupendous richness, protection or for any other ulterior motive.
The once jobless man was said to have bought a motorcycle from a businessman on hire purchase, which he converted to a commercial use. But Monday, December 20, 2010, would have ended his dream of completing the payment of the motorcycle, (N150,000) which would have automatically made him the proud owner of the bike which ended his joblessness and idleness for many years.
According to him, he had concluded the day's job at Iyana School and was heading back to where he lives at Obadore, a Lagos suburb when a gang of ritualists, chased away from vegetable garden (Oko efo), opposite LASU, hacked him down on the Obadore bridge. The victim, who summoned the uncommon courage, quickly got up and took to his heels. But his assailants chased him until they got tired and returned to their base.
'They hit me with a big stick before I lost control and fell. I summoned the courage, got up and ran, but they still pursued me.' Musbau narrated how some motorists, who noticed his plight attempted to stop to assist him, but were afraid to do so, because of the rampaging ritualists who he said, were really thirsty for blood. He said: 'When the motorists discovered that my assailants were pursuing me, they became afraid and sped off.'
When the bandits failed in their mission to kill Musbau, they ran back to the bridge, where the victim's motorcycle was, carried it and disappeared into thin air. According to the victim, the Obadore bridge has become a dangerous zone which requires police presence especially, at nights.
He said it was now common to find corpses either on the bridge or close to it, especially, on the Obadore end of it. 'We want the Igando police division to do something about it urgently,' he said.
He explained that many people had been attacked on the bridge in the recent times, while some lives had been lost because of the activities of ritualists. 'In some cases, you will find motorcycles belonging to the victims' without any trace of the owners. They would have been killed and vital parts of their bodies removed for rituals.
'They usually dump their bodies in the forest. People usually perceive offensive odour any time they are passing through the bridge, because of the decomposed bodies of victims of ritual killings,' he reasoned. Meanwhile, residents of Obadore have appealed to the Lagos State police Command, to take drastic action against the suspected ritual killers who have invaded the area, after they were driven away from LASU end of the road.
One of them, Hakeem Balogun, told Daily Sun that residents of the area, especially, those living close to the bridge now live in fear because of the nefarious activities of ritual killers. Another resident, Chinedu Ubochi, who claimed to have also escaped from the ritualists, said it was only police intervention that would stop the crime.
'We want the Police Commissioner, Mr. Marvel Akpoyibo, to order his men at Igando to stop it.. Police can do it, if they are determined to do so. We now live in fears here,' he said.