ATIKU WARNS JONATHAN OVER 2011 BUDGET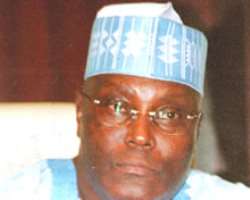 Former vice president and presidential aspirant of the Peoples Democratic Party (PDP), Atiku Abubakar has again warned that the nation's economy is going broke and that recently unveiled Budget 2011 by President Goodlcuk Jonathan can only exacerbate worsening state of the nation's economy.
In an 11-page letter he personally sent to President Jonathan, the former vice president said a budget that was predicated on consumption without corresponding investments in critical infrastructure was a recipe for economic disaster.
'At a time of unprecedented oil boom, you have presented Nigeria with a budget of consumption for consumption; a budget of debt accumulation to imperil the future; a budget that is rich in rhetoric and pedestrian initiatives but lacking in any bold step to lay the foundation for Nigeria's next 50 years or even 20 years,' Atiku said.
The PDP presidential aspirant warned that excessive borrowings that had marked the Jonathan administration as indicated in Budget 2011was in negation of the Fiscal Responsibility Act, had the potentials of returning Nigeria to a regime of debt overhang and making nonsense of all the gains of the negotiated cancellation of the nation's debts.
'I almost wept for Nigeria after reading your 2011 budget, which is your first budget as president of Nigeria. In simple terms, it signals your vision for Nigeria and how you intend to govern. For effect, you proudly announced that this is the first budget of the National Implementation Plan (NIP) for Vision 20:20-20. The rest of the world must be laughing at us. For a summary, you proposed a total expenditure of N4.22 trillion to be financed by a revenue estimate of N2.83 trillion, leaving a total deficit (new borrowing) of N1.4 trillion.
'Mr. President, you plan to borrow 33 per cent of the entire budget, or 3.62 per cent of GDP which is higher than the 3 per cent stipulated in the Fiscal Responsibility Act. Your total debt service is N542 billion (which is higher than your total capital spending on power, roads, health and education put together). Your total recurrent expenditure (including debt service) is N3.023 trillion, meaning that with the revenue of N2.83 trillion, your government plans to borrow money to finance recurrent expenditure even if capital budget is zero.
'Your recurrent budget is 107 per cent of total revenue. Put differently, your capital budget is N1 trillion whereas your deficit or planned borrowing is N1.4 trillion, meaning that even with a zero capital budget you plan to borrow about N400 billion to add to revenue to finance consumption. Mr. President, no one needs to be an economist to appreciate that this is a disaster,' Atiku wrote. He said it was unacceptable for the government to have recourse to borrowing the entire capital budget at a time of increasing revenue from oil.
'Mr. President, let me draw your attention to the simple meaning of your budget: not one kobo of our oil revenue (at a time of oil boom) is being spent on power and infrastructure. Rather, you plan to spend the entire oil revenue on consumption, and even borrow to consume. Every kobo of capital budget is to be borrowed. If you continue to borrow at the average interest rate of 14 per cent by the 2012 budget, your borrowing in 2011 will add another N196 billion to debt service payment (and hence by 2012 debt service might be in excess of N738 billion),' he said.
'At the rate you are going, by 2015, debt service payment will be in excess of N1 trillion. If oil price drops below $50, it is evident that government will not be able to service its debt without austerity measures. Is this what you plan for this country?' Atiku queried He noted that the N1trillion capital budget as provided for in Budget 2011 was the lowest in real terms when compared with others in the last seven years.
'…Your capital budget of N1 trillion (to be borrowed) is the lowest in real terms in the last seven years! Compare the capital spending in the years when the exchange rate was about N120 to a dollar and inflation in the single digit to your N1 trillion with exchange at N150 and inflation at 14 per cent. Your actual performance on capital budget implementation is about 55 per cent for 2010. If you maintain that, or even if you reach 70 per cent implementation in 2011, your capital spending will just be a few hundred billions in real terms,' he informed President Jonathan.
He continued: 'Again, Mr. President, the fact that this is your first budget in the implementation of Vision 20:20-20 is proof that with your government, Vision 20:20-20 is just an empty slogan. A simple back-of-the envelope calculation would show that given the level of private sector and state government investment, the Federal Government will need to invest at least N3 trillion per annum to have a chance of reaching vision 2020.'