BEST AND WORST FASHIONS OF 2010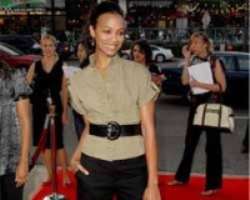 The closing of this decade witnessed the good, the bad and the outlandish aspects of fashion most people wouldn't want to see again next year.
THE world of fashion tends to be getting more vibrant and dynamic as we entered the first decade of this century and Nigerians, too, were not left out of the fashion mania for both Western and ethnic fashion.
Nigerian women turned out in their usual colourful best and the men, too, became real fashion buffs. Our good old Ankara stole the show, as it became the fabric of the moment that was cut into styles never imagined before.
However, from classic to trendy wears, we cannot help but notice the best and worst sartorial blunders of the year. As time goes on, fashion gets crazier, blurring the lines between flattering and downright ridiculous.  We hope the best would remain on the radar and the worst would disappear as we approach the new decade and people should pray not to be a fashion victim in 2011.
The Best:
The LBD – Popularised by Coco Chanel, the Little Black Dress remained a classic staple in women's wardrobe and many designers really got creative with it. It's not likely to disappear on the fashion radar in 2011.
Ankara – The colourful fabric also became the rave on catwalks as several designers did everything possible with it, from the doll dress to evening gowns and Nigerian women elegantly spotted this proudly Nigerian look.
Little jackets – Whether it's a smart blazer for work or a model-off-duty-inspired motorcycle style at night, there's nothing that instantly pulls together an outfit like the perfect thrown-on jacket. The bolero, too, was a hot item on off-shoulder wedding gowns and evening wear.
Belts – They became a hot item on denims and shirts and they were oh-so-cute and smart as they cinched women's waist.
Beads and statement necklaces – Beads reigned supreme on corporate, casual and party wears. The statement necklace was also a recurring trend that could take a casual outfit into evening territory in two seconds. Something face-framing and flattering to the neckline is almost always a DO.
Sandals – From the Roman sandals to the gladiators and gothic stuff, sandals were a one of the hottest accessories of the decade that are not likely to quit the scene in 2011. But some of the gladiators were overdone.
• Cocktail rings, oversized sunglasses, busy corporate skirts with frill and flounces, leggings, the Greecian goddess looks, the up-do hair, among others, were also some of the feminine fancies of the decade.
The Worst:
Women in boots – This is one of the worst fashion crimes of 2010. Pray, are we in the winter season that some of our women, especially those who have lived abroad, should be wearing boots to parties?  We would love to call this a chronic Westernisation and a fashion no-no for the New Year.
Men in sagging jeans/trousers – This fashion craze among men is the most disgusting and obscene. Just as women in low-waist jeans and g-strings always draw the ire of onlookers, so do these men and boys do as they exhibit their pants and boxers. Pray, when did Nigerian men become American prisoners in sagging pants? We shouldn't ape everything Western or turn ourselves into fashion slaves.
Cloggs – As ugly as ever. What are they? A shoe that can't decide whether it is a stiletto or a boot.  Very chunky and heavy, one wonders where the person who invented the cloggs drew his inspiration from. From heaven or hell? Though a few styles aren't too bad, but a pump heel still looks much more attractive than those big cloggers. Platforms, too, either looked beautiful or ugly, depending on the designer that made them.
One shoulder look – This design continues to be popular, but some women are still averse to it, claiming that it makes them feel naked or handicapped.
Super-short shorts and skirts – This is a mini-skirt or shorts overdone. What is more? Most women wearing them don't even have nice legs. A woman should at least leave little to the imagination. Standing up they look sexy. Sitting down, not so much.
Ripped jeans – Though not so popular in our clime, some, however, still spotted the look. When it is overdone, it looks outrageous, making people have funny feelings about the wearer.