APPIAH MAY RETURN TO BLACK STARS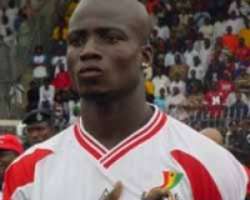 FORMER captain of the Black Stars, Stephen Appiah, has been requested to rescind his retirement from the national team.
Ghana's maverick coach, Isaac 'Opeele' Boateng, said the former captain must rescind his retirement decision and return to the Black Stars. The Italy-based inspirational midfielder retired from national team duties after the World Cup in South Africa.
Under Appiah's leadership, Ghana qualified for the World Cup for the first time for the 2006 Germany tourney, where it was the only side that reached the second round. He also led the Black Stars to qualify for the 2010 World Cup in South Africa but played a role at the tournament held in Africa for the first time.
Appiah quit the Black Stars to concentrate on his club career with Cesena in the Italian Serie A, where he has performed well so far this season. Opeele watched Appiah play during a recent charity game in Takoradi for Samuel Inkoom last weekend and the Kotoko former boss said the inspirational midfielder must return.
'I watched Stephen Appiah during the Inkoom charity game and what I saw has convinced me that he should return to the Black Stars,' Opeele said. 'I am humbly asking Appiah to return to the Black Stars for the sake of the country and his fans.
'We truly need his services and he is still sharp as ever, so we need his services. He will be of big help to the Black Stars. In Ghana, we prematurely retire our players and we should not allow this to happen to Appiah. He will help us a lot.'
Appiah made his debut for the Black Stars in 1996 and is regarded by many as the most influential captain in the history of Ghanaian football.