I SPOKE TO HIM ON PHONE BEFORE HE DIED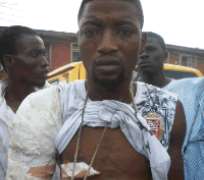 Salami
A woman in Lagos, whose husband was allegedly shot dead recently by a trigger-happy cop has appealed to the Inspector-General of Police, Mr. Hafiz Ringim, to bring the perpetrator to justice. Mulikat's husband, Ibrahim Tijani, was allegedly shot dead by a policeman attached to the Alade police station. 'Let those who killed my husband be brought to book,' she lamented.
The grieving mother of one, who got married two years ago, said life had become unbearable since their breadwinner was killed. 'Our only child had been ill since the father's death. I have also been going through hell, taking care of the child alone and settling bills,' she said. According to Mulikat, her husband's death would not have affected her the way it did, if he was sick before his demise.
She explained that the way his life was brutally cut short by a policeman was shocking and devastating. The widow also narrated how she spoke with him only for him to be killed few hours after. She said: 'I'm devastated and confused. If he was sick before he died, I wouldn't have been affected psychologically the way I'm affected now.
You can imagine the trauma I'm going through now.'
She recalled how the victim called on phone to inform her that he was on his way home, adding that she waited for many hours without any sign of him coming back home. 'After waiting for several hours, I became worried because he was not the type that stayed outside late in the night. When I called him on phone again, the handset was switched off. But it was the following day that one of my husband's friends came to inform me of his tragic death.'
Mulikat described her husband's death as painful, especially, when he did not commit any known offence that could warrant the shooting which resulted in his death. She, however, commended the Divisional Police Officer (DPO) of Alade police station, for assisting the family financially, but insisted that bringing to book, the cop who pulled the trigger would heal the wound.
Wasiu Salami, who was on the same motorcycle with Tijani when the policeman fired the shot, was said to have sustained bullet wounds on his chest and arms. While Tijani's family is mourning and moaning the killing of their son. Salami's relatives are thankful to God that he is alive to tell the story.
Narrating the incident that led to the shooting, Salami explained that they were riding on a motorcycle that fateful day, before some policemen on patrol flagged them down. He claimed that Tijani, who was riding the motorcycle stopped while the policemen, four of them queried his being on duty at about 9.30 pm as a commercial motorcyclist.
'When Tijani told them it was not yet late to ride a motorcycle in the city, they started maltreating him. And when Ibrahim could no longer bear the torture, he raised alarm, asking them to leave him alone, as he was not a criminal.' He said the plea fell on a deaf ear, as the policemen started searching his pocket. 'Tijani raised alarm again. It was at that point that the policeman shot him in the head and he fell. The bullet hit him on the chest and hand,' he said.
Salami disclosed that he escaped from the scene to avoid being killed by the bloodthirsty cops, who he said, may also be after his life to cover up their tracks. Though alive, Salami said it was difficult for him to come to terms with the death of his friend he had discussions with few minutes before he was shot dead.
'I'm sad that a friend I was discussing with became a dead man few minutes after. I want Ringim and the state police commissioner, Mr. Marvel Akpoyibo, to intervene, to ensure that those behind the killing are brought to justice,' he further said.