ODUMEGWU-OJUKWU IS DOING WELL, SAYS APGA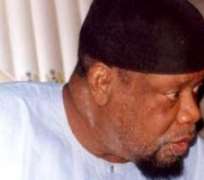 THE All Progressives Grand Alliance (APGA) has said that its Board of Trustees Chairman and Ikemba Nnewi, Dim Chukwuemeka Odumegwu- Ojukwu is alive and responding to treatment.
APGA explained yesterday that the worst was over for the former Biafran leader, adding that it was grateful to God for the rapid positive response granted to its leader.
While reacting to speculations that Odumegwu-Ojukwu had died, the National Chairman of APGA, Chief Victor Umeh, dismissed the report as untrue, stressing that patriotic Nigerians should now pray for sustained recovery of the ailing leader now being treated at a London hospital.
Just on Sunday, Anambra State Governor Peter Obi said that Odumegwu-Ojukwu was doing well.
The APGA chairman, who said that he had maintained a steady contact with those who accompanied Odumegwu- Ojukwu on the medical trip, urged anybody who had interest in the health of the former Biafran leader to seek divine intervention in his state of health and desist from stoking anxiety over his condition.
He said: 'Ikemba is alive and responding well to treatment. It is not true that he is dead.  I urge anybody who has concern for his health to pray for his quick recovery instead of speculating that he is dead.
'I urge the people to pray for his quicker recovery because he is doing well.  The rumour or speculation of his death is false and very unfortunate.'
Speaking to The Guardian at Nnewi last night, Chief Azuka Okwuosa, the family spokesperson, said he called and discussed with the Ikemba's wife, Bianca who reconfirmed that her husband is very much alive and has been responding positively to medical treatment. Umeh called on all and sundry including the media to exercise restraint over the matter, as 'there is nothing to hide.'
'We however thank Nigerians for their concerns and enquiries over Dim Ojukwu's state of health and we assure them that we will continue to provide the exact information about his state of recovery,' he said, adding that 'what is important now is prayer for his recovery.'
Odumegwu-Ojukwu was flown to London in a German air ambulance last Thursday for the treatment of cerebral vascular accident popularly called stroke.  Before he was evacuated to the United Kingdom, the former Biafran leader was admitted at the Intensive Care Unit of the University of Nigeria Teaching Hospital, UNTH, Enugu where he spent four days.
He was placed on life-supporting equipment called ventilator by the team of medical experts who stabilised his health and prepared him for the overseas medical trip.
But few days after he arrived at the London hospital whose identity has been kept secret by members of his family, there have been speculations that he might have passed on.
Also yesterday Igbo in the Diaspora prayed for the quick recovery of the ailing leader. The group said that the likes of Ikemba were hard to get, explaining that in the history of every nation there exist few individuals that should be able to point at the way forward and give advice to future generation.
It explained that Odumegwu-Ojukwu was lucky to be ranked among the few, stressing, therefore, that whatever could be spent to ensure that he regained steady his health back should be spent, even as it thanked Governor Obi for the initiative in ensuring that the Igbo leader received the best of care.
Okwuosa, a former Commissioner, said 'as a result of keeping the family and friends abreast with things, I have maintained an hourly contact with the wife at his bedside. He still has more years of service to Nigeria and humanity.
'It is even wrong to wish him dead now at this point in our national development when his experience and wise counsel are much needed,' he added.