'ETERNAL' SOLAR PLANE'S RECORDS ARE CONFIRMED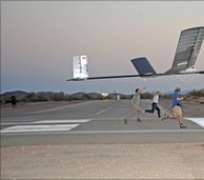 The 50kg Zephyr is launched by hand
The UK-built solar-powered Zephyr aeroplane has been confirmed as a record-breaker following its non-stop two-week flight earlier this year.
The world governing body for air sports records, the Federation Aeronautique Internationale (FAI), gave Zephyr three records including longest time aloft.
Built by defence technology company Qinetiq, the craft completed its two-week flight in the US in July.
The company sees applications in surveillance and communications.
The July feat led to Zephyr being dubbed the "eternal plane".
"This aircraft can help track pirates off the Horn of Africa, alert the authorities about where and how fast forest fires are spreading, and ensure that soldiers' communications remain unaffected when fighting in mountainous or hilly terrain," said Qinetiq's chief designer Chris Kelleher.
The FAI noted that Zephyr smashed the previous record for the absolute duration of an unmanned autonomous vehicle (UAV) flight – set by Northrop Grumman's Global Hawk in 2001 – by a factor of 11.
The organisation set the official duration at 336 hours, 22 minutes and eight seconds.
Zephyr's flight also set a new mark for flight duration for a UAV of its class – unmanned craft weighing 50-500kg – and, for that class, the altitude record of 21,562m (70,741ft).