EKITI, A CASE STUDY IN MANDATE DEFENCE –OPEYEMI, LAGOS COMMISSIONER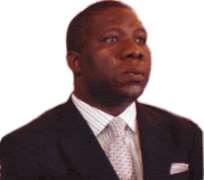 Fayemi's victory
I want to say that the legal victory that we recorded marked the end of the first phase of the struggle to democratize Ekiti State, and the swearing-in of governor Fayemi, commenced the second phase of the struggle. The struggle for moral rebirth, as well as the political, social and economic transformation of the state which is what we need so badly, and so desperately to prevent it from becoming a failed state.
We are inheriting a near failed state but I have no doubt whatsoever that given the enthusiasm of the people, we have a citizenry that will be willing to cooperate with the leadership of the government to any extent, in order to bring back the glory.
A state that was widely acknowledged as the fountain of knowledge, and the custodian of a large percentage of integrity and modesty of the Nigerian nation.
But down the line, especially in the last seven to eight years, we witnessed all sorts of brigandage in the name of leadership, and today, I am just happy that the process of bringing back our lost glory has begun.
The truth was lost in Ekiti, but it was found by the Court of Appeal. The question is what do we now do with it? what do we do with power? I have no doubt whatsoever that while we bask in the euphoria of this legal victory, we must not lose sight of the fact that expectations are high on the part of the people, and we must be conscious of this as a government and as the ruling party. We must be a government that must hit the groundrunning, without having to waste any moment trying to know what is to be done.
Fayemi has a blue print based on the manifesto of the party, and the struggle of the people. Let me also say that this goes beyond what has happened in the last three and half years. This is the time for all of us to demonstrate our love for Ekiti State. It is not about Fayemi alone. Everybody must be willing and ready to work with him. Part of what this government is expected to do most urgently is to open up governance so that we can bring in the private sector because what we need is corporate governance. All these are challenges that we are faced with. It calls for all of us to salvage a bad situation. But we are proceeding on a note of legal victory that is helping to rekindle the hopes and aspiration of people. It has given us a platform to create a new Ekiti State.
We never lost hope
We never at any time, lost hope, but we were faced with the challenge of having to re-orientate and reassure our people. Of course, that is what leadership is all about. We were not doing it based on anything, but on our commitment and conviction. We understand power, both in theory and in practice, and that's why I am particularly happy because, like I said, we know what to do with power. But it is not about the bravado, it is not about make belief or desire, it is all about, in practical terms, what you are able to do to bring meaning to leadership, to bring meaning to democracy. Democracy is enduring except when it is practicalised and when people can see it, they can see it in practical terms. Democracy has meaning only when the people can feel it and when value is added to their lives. We are here to put all the pieces back together and to begin also to implement new ideas.
Party members' morale during trials
Part of the unsung heroes of this struggle are the 13 members of the Ekiti State House of Assembly, who were elected on the platform of our party. They were faced with all sorts of temptation, threats, but they remained resolute and not one of them left for the Peoples Democratic Party (PDP) inspite of all the threats. God has been there trying to sustain the people and their determination. As it were, it was not just in court for three and a half years, but in between, we had to hold a rerun election and we had to go back to court. So, it was quite a struggle other than what happened in other parts of the country where similar things occured .
I want to say that Ekiti should be a case study, both in terms of defending the mandate of the people, on how not to get discouraged, and how to tap the resources both at the national and state level for everyone that matters in the party.
Fayemi's ability to manage Ekiti affairs
As regards intra party crisis based on political appointments, let me put it this way, the issues on ground are very clear and fundamental, I don't see how political appointment will fuel any kind of intra party crisis. It would have been a different thing if Dr. Fayemi had been sworn in as governor on May 2007, he probably would not have known as much as he does now.
So, to begin with, the struggle in the last three and half years has helped both Dr Fayemi and the leadership of the party to really know who is who in terms of consistence, it has also helped to have an assessment of the people and their ability and to be able to entrust people with information. You see, it has thrown up a lot of things and all of these will count in trying to determine who will serve where. And of course, the party hierarchy will be involved and the community will play a major role having a say.
So, a lot of things will be involved and I am sure the appointment process will be used that will help Dr. Fayemi come up with the right choice. When you are in a situation like this, different factors come to play, first is party patronage and this based on what you have done and beyond that again, injecting the expertise of technocrats, this is something we cannot run away from, regardless of whether or not you are a member of the political party. Several factors will come into play but like I said, it is based on the discretion of the party leaders and Dr. Fayemi will have a major role to play. Given his background and given his own vision, I won't be surprised if he encourages people from the private sector, from the civil society, professional bodies to join hands with politicians in the building of Ekiti State