Jumbo Pay: Fashola, Okunnu Seek Action against Wasteful Lawmakers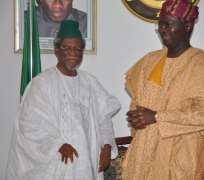 LAGOS, Dec 20, (THEWILL) – Members of the National Assembly today came under fire over jumbo allowances and salaries as Lagos State Governor, Mr. Babatunde Raji Fashola (SAN) and former Minister of Works, Chief Femi Okunnu (SAN) lambasted them for their wastefulness and greed and urged the electorate to ensure that the lawmakers do not return to the National Assembly.
Both leaders spoke at Ikeja House in Alausa where they sought action against the lawmakers when Okunnu led members of the National Executive Committee of the Ansar-Udeen Society of Nigeria (ADS) on courtesy visit to the state house.
Okunnu, who is also President, Ansar-Udeen Society of Nigeria, tasked the electorate to be vigilant and cast their votes for lawmakers with a demonstrable zeal to cut their present jumbo pay so that more funds would be made available for capital projects with meaningful impact.
Okunnu explained that lawmakers from the state Houses of Assembly to the National Assembly "must be able to cut their pay and align themselves with the thinking of lawmakers in the civilized world," who he said, had reduced their pay in the interest of the country's national development.
Speaking at the session, Fashola cautioned those who appropriate jumbo salaries and allowances to themselves. He said several millions of Nigerians "are not gainfully employed; a huge number of them are without jobs; and innumerable people could not afford three square meals."
Fashola tasked the electorate "to remain vigilant and scrutinize the process leading to election of political office holders and the outcome just as he asked all the public office-holders to be mindful of what they do with office."
He decried the elevation of zoning of the Presidency, which he described as an intra-party concept, but had turned to national debate while there are serious issues such as the state of roads and insecurity.