Anchor Baby : A spectacular movie ?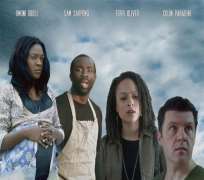 by Augusta Okon
Movie Title : Anchor Baby
Starring : Omoni Oboli, Sam Sarpong, Terri Oliver, Colin Paradine, Mark Cassius, Michael Scratch
Directed by : Lonzo Nzekwe
Genre : Drama
I'm very hard to impress when it comes to watching a flick and giving a good review about it (when it's not deserved). Probably, years of watching too many movies and seeing so many re-cycled themes, stories and all the intricacies of movie making, has made me thus. I'm always looking forward to watching something new, fresh, and hot! I thought okay, it's from someone in the Diaspora, hopefully not affected by the 'Nollywood production syndrome', so it would be stupendous… was i wrong with that presumption?
Well, if you're a movie enthusiast with a knack for flicks incorporating trigger pulling acts embedded in bombastic action, cool weaponry, exhilarating scenes, special effects, suspense laden scenes invoking adrenaline pumping moments or romantic over- lay….then this movie is not for you!. This is a movie that gets you thinking as you take a ride in the emotional roller coaster… not about connecting the diminutive suspense dots, but about the life of an illegal immigrant in God's own country. Then you ask yourself…is it really worth the trouble?
Agents in the Immigration and Customs Enforcement ("ICE") have been mandated by the U.S government to track down illegal immigrants. Like a hawk they swoop down on their targets when they least expect it. You can run… but you can't hide. They will find you… and D-E-P-O-R-T you!. The fear of deportation triggers off the survival instincts in the illegal immigrant… he can't return to his country unfulfilled…he must survive at all cost…until he achieves his dreams in the land of opportunities!
Paul Unanga (Sam Sarpong of Love don't cost a thing 2003), and Joyce Unanga (Omoni Oboli, The Figurine; araromire 2009), are illegal immigrants living in the U.S who have been caught in the 'dreamers web'. Establishing shots unveils the Nigerian couple strolling into a park. Their visa expired two years ago. They were further offered voluntary departure three months back but refused to leave the country. The couple have a hankering, which has metamorphosed into a Mission…Joyce is five months pregnant and must give birth in the U.S before they return to Nigeria!. This would automatically confer citizenship on their would be son –'Uche: God's will', who would be guaranteed access to 'living the American dream'. The burning passion to secure a better life for their unborn baby has kept the couple on the run, away from the dreaded "ICE" team. The Nigerians are not the only ones with Immigration issues, the Hispanics are on the wanted list as well.
A slip from Paul during his escape flight from the "ICE" team, leads to his arrest and deportation… a big blow to Joyce, who narrowly escapes the 'deportation net', the morning her husband was arrested. She's all alone...no friends… family... none to turn to. She must paddle the 'dream canoe' alone. She's attacked by Life's missiles… the motel charges are high, she can't rent an apartment from the landlord (Steve Rankin, 'In the Penal Colony'), without proper ID from the government, she can't see a doctor because she has no Insurance card and ID, can't work 'cause she has no work permit!. She's getting to the edge of being cash strapped and staggers under the weighty dream, spurred on by Sam who intermittently talks to her over the phone.
Free lance writer, Susan Backley (Terri Oliver), comes to her rescue, and offers Joyce the basement in her house to live in until the baby's born. Her husband Tim Backley (Colin Paradine of Dead genesis 2010) consents to her stay… but the couple has an issue that threatens to pull them apart. They're 'childless' and Susan's late nights and early morning appearances away from her matrimonial home, does not go down well with Tim. Even Joyce later on suspects she's been having an affair, when Susan declares she's finally pregnant.
Desperately needing access to a doctor, Susan tries to convince Tim's friend, Attorney John Rogdougougan (Mark Cassius, Comfort and Joy 2003), to help Joyce out. John suggests the only way out… she has to steal someone's ID and use the information on it. She's safe as long as the ID holder does not report the theft. Terri moved by Joyce's plight offers her ID to be counterfeited by Jose Rosario (Cyrus Faird). Now Joyce has access to a doctor and can do whatever she wants with her new ID bearing the names 'Susan Backley'. Cyrus gets busted by the "ICE" team, alongside his wife Maria (Barbara de la fuente) for being illegal immigrants. An unfortunate incident involving their son Joey (Santiago Lopera) and the "ICE" team occurs during the raid.
D-day arrives, and Joyce gives birth to a baby boy as predicted by her husband. She receives the passport certifying his American citizenship….but there's a problem. Uche Unanga is not written on it but Uche Backley. How would she leave the country with her son without getting caught by the Immigration's department at the airport?. The perfect plan is set in motion… but it turns out to be her worst nightmare!.
Lonzo Nzekwe, ex-basket ball player, turned director, has joined his Nigerian counterparts in the Diaspora bringing their movies back home (Jude Idada/ Lucky Ejim; 'The tenant', Chineze Anyaene, 'Ije'). He's an athlete in the movie race, poised to burn the movie tracks and transform lives via the movie medium. "Anchor baby", his first feature film was shot in Brampton and Hamilton (Canada) on a high (yet to be disclosed budget) if we go by Nollywood's standard. His directing skill stems from a persevering period of 'personal development', and it was put to the test in this movie. Although it wasn't executed the way a pro would have done, yet his tenacity, over riding zeal to produce something worthy of note spurred him on. He was chosen as one of the 20 emerging film makers in Canada.

Lonzo, who wrote, directed and produced the movie stays within the 'safe zone', unwilling to take a swim in the sea of inter- played crane shots, zooms, suspense filled tracking shots, POV's, visual effects. It was a bit difficult to pick out the title of the book the landlord held, as I sat in the middle row in the theatre (my sight's good). Probably, a quick close up shot would have settled that. The pursuit of Sam by the "ICE" team started on a promising note…I even sat up as the chase began, hoping to see acts that have dreamt of being incorporated into a real chase in a Nigerian movie... at least it was shot in Canada unlike Naija where too many extrinsic factors can hinder the perfect execution of such.

Alas...i was let down… the chase ended abruptly, leaving a sour taste in my mouth. The usual bumping into people, destroying a few objects, tyres screeching, well maybe a stunt or two by the escapee, car/ bike jacking, would with certitude, have created adrenaline pumping moments for viewers… what happened to the 60 extras and 40 others with speaking roles (apart from the main cast)?, couldn't they have been drafted in as passers- by, be in a restaurant or specific mapped out areas where the pursuit would occur?. Besides, it's now easier to generate a crowd through software programmes… but he chose to play safe…away from the bee hived activities, which he could have created.
The story was told in a simplistic and almost formulaic fashion. It was bitten by the "predictability bug', I mean the childless Susan willingly offering her ID to be counterfeited… her refusal to see the attorney the second time… the name palaver. Lonzo however, embarks on a quest to throw us off balance…to negate any doubts of motive that could have formed in our minds with Susan's pregnancy (if your thinking cap was on from the word go)…that was a good strategy. Then again, if you happen to love connecting the dots in movies… you'll probably not buy that… I mean Tim , a white man…with a black baby…oops! Did I give that line of thought away?

Although the story passed the predictability test, a slight twist in the final scenes of the movie (a nice move), saw me leaving the theatre non-grumpily. The climax would have been best achieved had it stemmed from a compact, thrilling plot. Paul called his wife after he'd been arrested, from the 'Immigration holding centre', for me… that was a 'no no'. I mean you're about to be deported and you call your wife who's also on the 'wanted list', on her cell phone from the centre, telling her to move out of the house 'cause the team said they'll be back and all that… and the "ICE" team doesn't even trace his call, knowing fully well he'll most likely be calling his wife!…nor did they put a surveillance team around the building?...now that's some sloppy "ICE" team. If they could track him down through his cell phone… how much more when he called his wife?
The cinematographic output was good… but not as superb as I imagined it would be. I liked the inter-cut between Joyce's ascent into the building and Paul's arrest by the "ICE" team, which created a pint of suspense in the 'suspense deficient movie'. Was that 'Onyeka Owenu's', 'I'm missing you' song I heard (one of the sound tracks) when she left the hospital scene for the suya joint?…good choice of song….it created a nostalgic feeling … but that was certainly a wrong scene to play that!. The decision to make Tim's character a white man and the Attorney John never showing up in their home, creating the 'business only' kind of impression' to viewers was a good move.

I liked the busting move by the "ICE" team… knocks on the door… barking order…get down now!, guns waving in the illegal immigrants faces, who get handcuffed while on the ground. I couldn't help but chuckle when i heard "ICE" agent Labinsky (Rachael Ancheril) sarcastically reply to Paul's question when he'd been arrested "my wife knows I'm here busting your illegal Nigerian ass". I believe we should have seen more of the "ICE" team in action… but like I said at the beginning it's not an action packed movie. The "oh girl you better scram out of here" look made by Joyce (Omoni) when Tim sat angrily on the chair without uttering a word after Terri had postponed their discussion for the next day hit the bull's eye. John's calm disposition, frank talk, nill flying visits, certainly promoted the twisty tale.
Joyce (Omoni Oboli) playing the lead role (female), is certainly experiencing a meteoric rise in the movie world. She's been in the movie business for over a decade, but the clash of productions with her studies, marriage and other things prevented her from giving her all. Her come back to the screens a few years ago has begun to pay off nicely for her. She holds on to the reins of Anchor baby, transforming the averagely pulsating script into one that holds you emotionally bound. Her facial expressions, reactory time, heart rending ordeal manifested especially in one tear jerking scene, where she looked disconsolate, scored on points. She's making her way to the top two spots. Stella Damascus, Rita Dominic, In Edo, Dakore Egbuson, Mercy Johnson, and Stephanie Okereke slug it out for third place. However, with the rate at which Omoni's flying high across the boarders, it might not be long before she emerges as the 'Queen of Naija's movie screens'. I'm sure Nnaji's and Omotola's fans wouldn't like to hear such), but then again, with the Oprah interview and CNN(due to take place, if it hasn't already) for Nnaji, then the number one spot might elude her for a long time if Nnaji continues with the International interview streak. Probably it was not a very challenging role, (although I heard she said it was, based on all the emotions that were needed to pull it off), but then again 'emotional outburst' is something synonymous with scripts Nollywood actresses interpret. All the named actresses herein could have successfully pulled it off….you want tears to flow down their cheeks like a cascading stream…to scream in agony…have an emotional connection with the viewers...they execute it with well… but all hail the 'Queen of emotional distraught' on screen (Stella Damascus). Anyway, Omoni did well and it landed the award for BEST ACTRESS at the Harlem International film festival in her hands.
Colin Paradine (also in 48 hours in Purgatory 2009), was really convincing in his role as Tim Backley, wearing the mask of a jealous, insecure, displeased, highly suspicious, husband. Although, we didn't get to see the full unleashing of his bottled up fury as projected through his eyes, cold disposition, subtle aloofness especially around Joyce, the chameleonic role played out nicely in the long run. Sam Sarpong, a Ghanaian born in the U..k had an early exit in the movie, he nonetheless gave a good account of himself. He's starred in various films and Tv series such as "Johnny Was" (2006), "Nailed" (2006), "Grad Night" (2006), "The Sheep" (2008), "24" tv series as Teshon in 2010, "Family Matters" tv series(1996) and many more in the States. His pep talk with Joyce and escape flight from the "ICE" team , were the high points of his role. Brother of June Sarpong (producer Apocalypse 2012 (2010), he was selected as one of U.S weekly's "hot 100" at the Young Hollywood Awards
"Anchor baby" won the Best film Harlem Intl film festival, Award of Merit L.A Cinema festival of Hollywood. It made the Official selection Africa Intl film festival and official selection Fans of film festival.
It is my view that the sentimentalized picture of illegal immigrants, Omoni's outstanding performance, multi- cultural cast, final twist in the story line, rather than the holistic outlook, aided in bringing in the awards. How high will Anchor baby fly on the bigger stage when rated alongside other movies?...well, only time will tell. Probably a good, well structured, thought out plot for an 'Anchor baby sequel' will shut constructive critics like me up … ha! please bring it on.
'Anchor baby' is not a spectacular movie…nonetheless… it's a good debut for Lonzo Nzekwe.
Augusta Okon is a lawyer, writer and movie critic, [email protected], facebook.com/augusta- okon
Rating for Anchor Baby – 3 points
Points' Rating Guide
5- Classic
4- very good
3- good
2- fair
1- An apology