BIGMA STEPS OUT BIG WITH KOPYKAT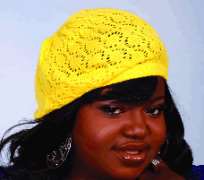 BigMa
Plumb but talented BigMa, who emerged the overall winner in last year's Jay Search, has begun to gain grounds in the entertainment industry. Apart from carting home a cash prize of N150, 000, her deal with Kopykats Entertainment which includes an opportunity to drop a single, a music video and a photo session had come to fruition at last. Now, BigMa has unveiled her self-titled debut, which parades the hit track, Way I Roll and produced by Abel Davey.
Put together to immortalize late music star Jaiye Aboderin by his family members, the first edition of Jay Search held December 3, 2009, exactly five years after his demise. After two rigorous and demanding auditions, six finalists emerged and BigMa emerged as overall winner.
According to Wunmi Obe, the motive behind Jay Search was to immortalize 'our late brother, Jaiye by doing one of the things he did best in his lifetime – supporting the up and coming talents and helping them to realize their dream of stardom.'
Jay Search, which has no sponsor till date, is being financed by Aboderin's siblings and KopyKats Entertainment. Schedulled to take place bi-annually, Jay Search has already rolled out plans for 2011 edition. 'It is hoped that with adequate sponsorship, many more youth will be able to realize their dreams, expose their talents and attain stardom via the Jay Search platform,' Obe says.