MY KIND OF MAN MUST BE ABLE TO MAKE ME LAUGH –TIWA SAVAGE, SONGWRITER AND MUSICIAN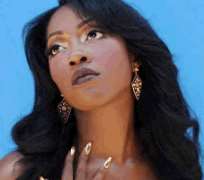 •Tiwa Savage
Seasoned songwriter Tiwa Savage is generating a buzz in the music industry with her fresh beat and rhythm. Her new single kele kele is already topping charts while her album will hit the stands next year.
She was born and bred in Lagos, Nigeria and is a singer/songwriter signed to SONY USA record label. She graduated from Berklee College of Music in 2007 and has since then been working with music producers in the Industry.
Her participation in X- Factor – the british competition gave more boost to her already rising profile. Tiwa began her music in the UK touring as a background singer for artistes such as Mary J Blige, Sting, George Michael, Kelly Clarkson and Spice Girls. She is world class artiste who admires hardwork and passion in International artistes.
She told Daily Sun in a recent interview that the Nigerian music industry is growing at an incredible speed because there is so much talent and creativity, considering the limited resources with which artistes work. Excerpts:
Who is your greatest inspiration as a song writer and a musician?
As a musician I would love to make music that makes a difference in people's lives. Music that makes people dance, cry or think. I also want my music to be a foundation into other things I want to do like missionary work. As a songwriter, one of my goals was be to be nominated for a Grammy and it actually came true. This year, I wrote on a song for American Idol winner Fantasia and her album is nominated for a grammy for best R&B album.
How did your journey into song writing begin?
A manager in LA heard some of my personal songs on my myspace page. He invited to work with some producers in LA and somewhere, one of the songs I wrote got heard by the Vice President of the Sony New York office. He fell in love with my voice and style of writing and offered me a deal that day.
How has it been so far?
It has been a great and wonderful journey.
What puts you off as singer?
Not being able to fully express my thoughts and feelings on a radio in order to be radio friendly.
What do you love most about being in the entertainment industry?
I feel blessed being in an industry where we can create music that can touch lives in ways other things can't.
How would you rate the Nigerian music scene?
I think it is growing at an incredible speed. There is so much talent and creativity, considering the limited resources artists are still able to make incredible music.
What changes can be effected to make it better?
We need better enforcement laws to crack down on piracy, so that musicians can make money. We also need to keep investing more in local talent rather than spending so much in bringing international artists to perform.
How are you handling fame?
I am handling it well. I truly ensure that I stay humble and I am also growing a thick skin. When more people know you, more people are watching your every move and you start to learn that you cant please everybody. Its nothing personal, I just focus on the music and how to move higher.
You have been in contact with some top musicians on the international scene due to your job as a song writer, how does that make you feel?
I feel truly blessed and favoured by God. I feel honoured to have worked with artists and producers that I have admired all my life.
What are the qualities you admire in these artistes?
I admire their hardwork and passion. I worked with Babyface, one of the most talented musicians of our time and even though he has won many awards and has made a whole lot of money, he still wakes up daily to sit by his piano and compose. He taught me that you can never stop learning or growing as a musician.
What are your duties at Sony/ ATV publishing?
I am signed to Sony as a songwriter, I basically will get a call or email that this artist needs a song and I will go into the studio, study the artist and write a record that I believe will suit them.
What were you doing before you got the Sony/ ATV job?
Before I was signed, I was in Berklee College of Music, studying for a degree in music business and learning Jazz music.
What motivates you as an individual?
The word of God and my family really motivate me as an individual.
Are you also engaged in charity like most of your colleagues are doing lately?
I have been before and it is definitely something I want to get back into. When I was in Los Angeles, I used to volunteer in a children's hospital every week. Just couple of hours reading and playing with children with serious illness.
When are you dropping your album?
God willing by mid 2011. I have only released one single, so I have to release more singles so people get to know more about me and my music before releasing an album.
You were once a contestant in America's 'X' Factor and made it to the top 24 out of 800,000 contestant, can you share that experience with us and how did you feel at that point?
It was actually in the UK and the experience was a blessing. Although I was sad I didn't make it all the way, I was able to get a taste of fame and what some artists have to go through. So, it was great preparation.
Are you back in Nigeria for good?
Yes, I am based back in Nigeria now, although I still have to travel very often to the US to continue my songwriting with Sony.
How is your single doing?
It is doing great. It is getting a lot of airplay and is climbing up the top ten charts. I feel so proud and happy.
Do you think Nigerian artistes are creative enough given your stay abroad?
Yes I do, Nigerian music is definitely going to cross over to the international market in a big way.
Who are your role models in entertainment?
I love Kim Burrell, Sarah Vaughn and my ultimate is Brandy.
Do you still do back-up singing?
No, the last background vocals work I did was on Whitney Houston's last album.
Do you also write songs for Nigerian artistes?
I would love to, I just haven't had the opportunity yet.
How much do you charge for writing songs for artistes?
That's a trade secret that I cannot share no matter what.
What is 323 imprint all about?
323 Entertainment is the label I am signed to as an artist.
What is your take on lesbianism in the music industry?
I haven't really come across it that much and I try not to judge other people's personal lifestyles.
What is new about Tiwa Savage?
I just got a puppy about a year ago.
Share your childhood memories with us
Growing up was fun, I am the only girl and the last born. I have always loved being creative. I would always take part in plays and dance routines with the other kids in my estate.
Did your family bless your journey into music?
They wanted me to get a degree in something else first so I got my BA from the University of Kent at Canterbury. After that they have supported me all the way.
As a student, how would you describe yourself both socially and academically?
I was very social, always took part in student societies, but I also took my studies serious as well. I had a great balance
What did you like most about school?
I meet some of the closest friends I have today in school
What did you study in school and why?
I studied Business and minored in Accounts
Are you practicing what you studied in school?
No, although it still comes in handy with contracts and budgets.
Do you regret that career path?
No, it is part of my life.
What is your relationship like with the opposite sex?
Normal and healthy.
Would you marry a man in showbiz like you?
What he does is not really a big issue to me, it's his character that matters most and his relationship with God.
What kind of man appeals to you?
A man that truly has a relationship with God, someone who is kind and can make me laugh and feel comfortable.
How do you handle overtures from men?
I handle it with maturity and tact.
Where do you see yourself in the next five years?
By the grace of God winning many awards, world tours maybe even married with children.