COSON, WASPAN SIGN COPYRIGHT DEAL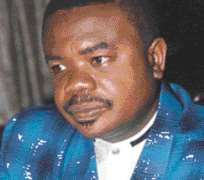 •Okoroji
As part of the efforts aimed at promoting and protecting creative and intellectual works of artistes, Nigeria's first group copyright royalty agreement was recently signed between the Copyright Society of Nigeria (COSON) and the Wireless Application Service Providers Association of Nigeria (WASPAN), the umbrella organization for licensed telecommunications value added content providers.
At the historic agreement signing ceremony which took place at the Board room of COSON in Awuse Estate, Ikeja, COSON chairman, Chief Tony Okoroji referred to the extended period during which the agreement was negotiated and commended WASPAN for its commitment to ensuring that its members operate within the laws so that the wanton abuse of the rights of artistes and other investors in the Nigerian music industry comes to an end.
According to Chief Okoroji, 'No contract is perfect and we could each have found a thousand reasons every day to keep changing the terms and avoid that which we must do. If we had waited for the perfect contract, we will never make progress. What is important is that the parties keep acting in good faith and genuinely work together to resolve any issues that may arise'
Chief Okoroji referred to the historic nature of the agreement and described all those who participated in making it possible as 'pathfinders and forerunners' in the development of the intellectual property culture in Nigeria.
Responding on behalf of the member companies of WASPAN, Mr. Aderinlola Simon, CEO, 3 Ways Communications said that WASPAN is a group of responsible corporate organizations and since the government has made it very clear what any organization which wishes to use music must do, WASPAN members have no choice but to obey the directives of the government by working with COSON.
He requested that COSON show understanding with the members of WASPAN who may have challenges meeting with every requirement of the agreement. Commenting on the development, COSON Acting General Manager, Mr. Chinedu Chukwuji, who was present during the ceremony, said, 'The event we have just witnessed was a proof that it can be done if people want to do the right thing.
All those looking for excuses to continue to use music free of charge in Nigeria and feed fat from the labour of innocent artistes must understand that there is no longer anywhere to hide. The more they try to play 'hide and seek' with COSON, the heavier the price they will eventually pay. They may not know it but there is no place to hide any more. The game is over'