SELLER WANTS INDIAN HEMP SMOKING LEGALISED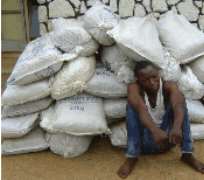 •Bolaji with the Indian Hemp
When Alonge Bolaji, a native of Kogi State was first arrested by the men of the A Division police station penultimate week, he did not show any remorse that he has committed any grievous offence.
He was so bold that he told journalists that selling Indian hemp was not a big deal. Bolaji, was arrested in a residential building along Leo area of Akure metropolis, Ondo State with 28 bags of Indian hemp stock-piled in sacks.
He was not the only person arrested by the police. Six other co-tenants were also apprehended by the police for failing to notify the police of the nefarious activities of the suspect in the said residential building. The six persons who are women were later freed after they were interrogated by police detectives.
While parading the suspect, the Divisional Police Officer in charge of A Division Police Station, Hamza Ameyi, said the arrest and the seizure was made possible based on the tip off from members of the public. He added that despite the fact that residents of the building know what the suspect do for a living, they did not for once report his activities at the police station.
Ameyi explained that six other people were arrested in the building with the suspect for failing to report Bolaji to the police, adding that their arrest would serve as a deterrent to others.
His words, 'we worked on a tip off that Indian hemp was stockpiled in a building along Leo area in Akure metropolis and we swiftly acted on the tip off. The owner was caught unaware and we also recovered the exhibit.
'We are using this medium to appeal to the public that they are not helping matters. They know what this man does for a living and nobody has come forward to report him to the police. That is why we arrested six other people in that building 'Though we have freed the other six people, it will serve as a lesson to them to always report any foul play or sinister move they discover in their environment.
While being interrogated, Bolaji who confirmed that the substance was found in his room however said that he was contracted to buy the substance by one Alhaji Adamu from Kano. He added that the Alhaji who was still at large gave him N30, 000 to buy the twenty-eight bags for him and that he promised to pay the balance later.
'I bought each bag at the rate of N3, 500 with a view to sell it to Alhaji Adamu at N6, 000 per bag. I want to make quick money from it and use to take care of myself. 'At least I am not a robber, I don't think what I did was wrong because it is another kind of business which can bring quick money. It is better than internet fraud and other criminal acts'.
When asked why he ventured into the business, Bolaji said, 'man must eat and since I cannot go into armed robbery, I have to take care of my self through selling of Indian hemp'. He explained that he was pushed into the business when he was not being patronized despite having good knowledge of furniture making. 'Before I started selling Indian hemps, I was a furniture maker but the business was not moving, hence the need to look for alternative means of making money.
'There is nothing wrong in selling Indian hemp; I don't see any offence in it because it is not new to our society. You will not be surprise if you see the caliber of people who smoking the substance
'Apart from selling it, I also smoke it regularly because it makes me look cool and healthy. I cannot do without it in a day', he added.
Bolaji called on the federal government to legalise Indian hemp smoking in the society like it is being done in some advanced countries. 'There is not wrong if the federal government can legalise smoking of Indian hemp like that of cigarette. There are many countries where people some Indian hemp freely. So Nigeria should not be an exception.