AT 70, OLDEST MECHANIC IN ENUGU SAYS IT'S NOT YET TIME TO RETIRE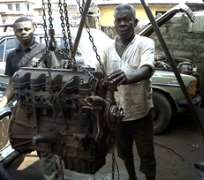 Akaga at his workshop
After 46 years as an auto mechanic, Mr Alloysius Akaga who will soon be 70 years says he has no plans to retire from the job.
According to him, he intends to carry on as long as his veins and arteries can carry him.?Also, unlike the young generation auto mechanics, he says he has not been involved in any police case with his customers.
Popularly known as 'Ala-Owerri' Mr Akaga recalled how he started as an apprentice mechanic way back in 1964 in the Ogui area of Enugu State before the war broke out in 1967, saying that then  'everybody scattered, but I returned to this place after the war and continued with what I know how to do best.'
His words: 'I finished standard six in 1963 at CKS Mbieri Parish, Imo State and started off as an apprentice the following year; when the war broke out we ran away, but in 1970 I came back to set up this workshop and since then I have remained here.
In a chat with Daily Sun at the Moore-House Street, Ogui New Layout Enugu, he disclosed that what has seen him through all these years has been truthfulness and sincerity in his service to the people.
Having put in so many years as a mechanic who specializes in Mercedes Benz brands, Akaga has become a sort of an oracle in the business as he is widely consulted when difficult situations arose.
However, he would quickly point out that no man could be said to know it all in the auto mechanic business.
'Sometimes, I am consulted by other mechanics while at other times I also consult them when confronted by difficult mechanical problems,' he said.
Still looking very young and strong 'Ala-Owerri' said he is so grateful to God for bringing him this far, saying 'in whatever you do try to be straight forward and always remember that there is God; that is what has always seen me through; let your yes be yes and always maintain good relationship with people around you.'
He blamed the youth for the bad name with which auto mechanics are being associated with in recent times, maintaining that the younger generation is in a hurry to make money and thus in most cases they compromise the honesty required in the job.
'But if you want the truth try the elders in this business. I love the job; when I was in school I said I wanted a dirty job; you know mechanic is a dirty job; but I give thanks to God, He has seen me through. I've been in it till I got married, had children and even built a little house in the village'.
He further expressed concern that the younger generation is not interested in learning the job, saying that 'because they want to be millionaires overnight; that is why most of them prefer to ride Okada instead of learning how to be a mechanic, for instance.'
He said there is no short cut to becoming a good mechanic as 'it is not something you learn in one or two years; to be a good and qualified auto mechanic you must put in at least five to six years.
'And you must be straight forward with your customers; if you come to your workshop in the morning and see a vehicle you did not park when you were leaving the previous day report to the police; that's the way you can keep out of trouble in this business.'
Talk about quitting the tool box business, Akaga who hails from Amankuta Mbieri in Mbaitolu Local Government Area of Imo State will laugh at you because as far as he is concerned, there is no quitting the business except his bones can no longer carry him.
'I will soon be 70, and I am so grateful to God because most of the persons I started this job with have all died, but you can see how strong God has kept me; and as long as I remained strong, and my arteries will allow me I will continue in the business; unless my children say I should stop; but for now, I am on in this.
Ala-owerri, who remains one of the best Mercedes mechanics in Enugu, has eight children; out of the four boys among his children, one is also an auto mechanic and he says the boy is doing well.
The oldest Enugu mechanic said he was born on October 1, 1942 and has no regrets for becoming a mechanic; and with so much humour he tries to satisfy all his customers who as early as 7:30 a.m. have started to queue up in his workshop.