4-YEAR-OLD NEEDS N3.5M TO LIVE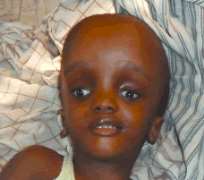 Chizubere
Death stares at little Chizubere Nwachukwu who has swollen head. Chizubere, who was born in December 2006, depicted hope and fortune. And like every other mother, the joy of his arrival filled his mother's heart only for the devil to strike at his fourth month. According to his mother, Judith Nwachukwu, Chizubere started having some complications after his birth and on the fourth month, he developed hydrocephalus meaning that he has so much water in the brain. She said: 'In the year 2006, I got married to Mr. Nkemakolam Nwachukwu, who is from Umuaka in Njaba Local Government Area of Imo State. That same year, in December, I had my first son, Emmanuel. After his birth, he started having some complications. We took him from one hospital to the other.
At last the doctor diagnosed that he had hydrocephalus.
Because of the problem of the child, my husband and his family, turned against me and accused me of being the cause of the problem. At the Federal Medical Centre Owerri, doctors advised me to take the child to either University College Hospital Ibadan or LUTH where his case could be treated. But my husband and his family have bluntly refused to assist in anyway to raise money for the child to be taken to the hospitals we were referred. On my own, and according to my financial ability, I brought the child to Lagos to see the doctors in LUTH.
After so many examinations, the hospital said he has hydrocephalus. Once again, I told my husband of the outcome of the tests, yet he has not changed on his stance. To worsen the situation, he told me the marriage was over and to count him out of any solution to the problem.
Since 2007 I have not taken him to the hospital again because there is no money to handle the bill. I am now in Lagos with my family.'
Because nothing is done about the little boy's case, the situation worsens by the day. His head keeps swelling and as a result of the heaviness, he could neither walk nor stand. That he is still alive is still some grace. Recently, he started developing some complications, from seizures to convulsions and frequent fever. The mother a graduate of the Imo State University could not do anything because taking care of the child takes all her time.
She said: 'The child's problem has made me jobless. I graduated from Imo State University, but I couldn't work because I can't leave the child for any work. It has been very tough for me, especially my family. In the past two years, I have not spoken with my husband either by phone or otherwise. The whole responsibility has been on me. The money involved in handling my son's treatment is more than what I can afford. My family too cannot afford it. I am using this medium to appeal to good spirited Nigerians to help save my son. From enquiries, the financial involvement for his surgery is N3.5m. I am begging Nigerians to come to my aid because I do not want to loose my child. He needs urgent surgery to correct the error that causes flow of water to his brain. The heaviness of the head has made him not to walk up till now. He cannot stand on his feet. I almost do everything for him. The surgery can be handled at the Memphil Hospital Trans Ekulu Enugu, LUTH or the University College Hospital, Ibadan and there is also a hospital in India that asked me to bring him. I was assured that if he undergoes the surgery, he would live. Moreover, I have seen children that had such case and after the surgery, they stood on their feet.'
Anyone who is touched can pay some money into a UBA Account No 00310520145137 with name Nweze Judith C to assist me raise the required sum for the surgery.