I SPANK MY CHILDREN WHEN THEY MISBEHAVE-----DESMOND ELLIOT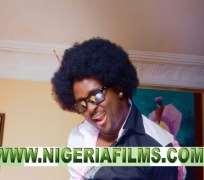 What readily comes to your mind about Desmond Elliot? Well, his wife and mother of his four children would say he's handsome and that he's a good husband and father. His children would not disagree, because he spends quality time with them.
His fans would say he's a consummate thespian and would agree with his family's impression of him too. Elliot is doing more of producing and directing these days for very practical and compelling reasons. He's not really pleased with the lot of Nollywood. You would discover why as well as find out aspects of the thespian you don't see on the screen in this interview he granted Samuel Olatunji.
Excerpts:
What has been like for you?
It's been a great year, it's been very long but very great. It's been a year of great reflection and I just thank God that He has been able to bring us to the end of the year. Everything has come and gone but we still dey.
It seems in 2010 you moved towards directing and producing movies than acting. Was that deliberate or is it because of the crunch in Nollywood?
No, there is no crunch. The crunch did not affect the core actors , but it affected the quality of our films and their distribution . I have lost interest in acting and I have not seen any film that I'm interested yet . Secondly, I am a bit discouraged, because for two to five years now, we cannot boast of bringing out a star and that is not good for the industry because as the young ones become older, we need to bring in newer ones. Young and budding actors into the fold. So it's a major issue we need to look into and we must make sure that there is a regeneration of young actors that we don't have right now. I'm into directing and producing because I need to bring up people that may even be better than we are. I want to develop stories and direct them according to my perspective in the light of what I see, if you know what I mean.
Would you say you've achieved that?
No, I won't say that now, but the good thing is that I have started, and another good thing is that I'm not alone. It's not a unilateral effort. Emem Isong is working with me. To me , he is the best script writer and producer we have right now. Also Uche Jombo who is like a sister to me, is quite professional in her job and a couple of others like Monalisa, Chioma Chukwuka who are doing great things. So, I'm just speaking from my own perspective.
The point is that even actors have realized that they need to do something, because they are the closest to viewers and they know where it hurts. I have done some production and each day, I look at my production and of course co-produce and I discovered that at every point we need to improve on a particular thing like quality, and sound. Right now, sound is my challenge and we are working seriously to improve sound quality. We need good picture quality as well and we are learning at every shooting.
What great movie will you say you've done this year?
Well, like I said it's been about collaboration, and most of my productions have been executed with Isong. We've done Holding Hope, but it's not out yet and I want to believe it's a great movie. Another one is Breaking Loose which I directed and there is another I directed with Monalisa and Isong. It's a soap opera and it's not out as well. I'm generally excited about all these and we are not just talking about production but quality, impact and how has it improved Nollywood. It's not just producing it. We want to believe that before we leave, we would have left our footsteps in the sands of time. That we did well. That we have taken Nollywood a notch higher.
Did you act in other peoples' work this year?
Yes. About five or six. Not many. About two in Ghana and the rest here in Nigeria
Was that deliberate?
Yes, because I really want to concentrate more on directing than acting and the other thing is, we want to spread our wings. We are teaming-up with Mnet and trying to create a distribution network for our work. Evenly all around. That in a way will eradicate piracy, because one of the reasons why piracy is thriving at an alarming rate is that movies are not distributed evenly. It saddens my heart to know that in a country with over 200 million people, only a million people are able to buy a film. We cannot boast of selling two hundred thousand copies. That is a huge sin. That is the reality.
Do you think your Yoruba root has anything to do with you being responsible?
I don't know. I think it's my upbringing. That I will credit my parents for not because we are Yoruba, though being Yoruba, you are taught to be respectful. I think that goes for other tribes as well. As a country, we are a very respectful nation. I am saying this with all sense of modesty because I have been fortunate to be around Africa and I have seen disrespect. I think my upbringing and my religion played vital roles though I still think it's a matter of choice.
Has being a father of four kids changed anything about you?
Yes, it makes you remember that you'll always be born and you will always die and when your children begin to call you daddy, you should know that the end is coming. You were a son, now you're a father and you become more responsible to your children. I was watching Wicked Intentions in which I acted with Stephanie, Nadia amongst several others with my kids.
While they were watching, there was a bed room scene I acted and the boys saw me with Suzan Peters in bed and they said, see daddy, see daddy. Though, it's as funny as it could be, but you have to be answerable to your kids. You should be able to explain the reasons behind every step you take. Though they are too young to understand it's just professional, I'm sure they'll grow to understand. Fatherhood is very interesting, seeing your own kids smiling at you says it all.
What would you say is the best way to raise a child?
Well, honestly a lot of people will not agree with me on this matter. I spank them when they misbehave and that's why I don't think I can live abroad with my children, because I don't want anyone to tell me how to raise my children. When I spank them, I make them see reasons why I'm doing so and I do it with love, letting them understand that daddy wants the best for them. It's not all about spanking them, it's about praying to God that He guides the path of your kids so that they become children that are respectful. It's not an easy task but with God we're assured.
Were you in the labour room with your wife?
Yes, that was when we had our firstborn.
Where were you the second time?
My mother was travelling that day and we were leaving the country when I got the news, but before I got to the labour room, she had already delivered. I was scared, very scared as a matter of fact but I thank God.
Could you tell me in your opinion, the most outstanding movies in Nigeria?
To be fair and honest, of the ones I have seen so far, I like Holding Hope. It's just that Holding Hope is a sad story and Nigerians like happy stories. I still give a lot of thumbs-up for Figurine, because the film is a fusion of modern and indigenous story. Also, Between Kings and Queens is good and I also appreciate everyone that has taken their time to take the job to the next level. Thumbs up to Nollywood!
What's the culture of the cinema like?
There is no culture in the cinema yet as far as I'm concerned. How many cinemas do we have? You see the problem is that we tend to underestimate the country. Nigeria is so rich in resources and all we can boast of are eight cinemas three of which are in Lagos .I think that's a shame. I think it's also one of the reasons why filmmakers are not making enough from their films because the outlets are limited. Look at America for example, you are talking about tens of thousands of cinemas no matter how small. I want to see an improvement. We need to have more cinemas to appreciate culture.
What's your take on Ije?
I think the actors pulled it up. They gave it their best shot. Though the producer tried to make it indigenous to some extent, but in terms of picture quality and sound, it was superb. Also, because the story was based on a western story, you'll be forced to compare it with a western movie which is why I still rate Figurine high. You could basically feel the fusion of African ethics in the movie.
I want to see more African stories and by African stories, I don't mean juju or African dance but an African story that's worth the attention of the outside world. An African story could also be how we live our lives as Africans, I'm not talking of an epic movie though it's part of what I'm saying but we have modern stories that are African. That's what I want to see and I will be working towards that. I feel the western world already knows its story. There's no point telling them their own story, rather, let's tell them what they don't know in good quality and richness.
In your opinion, why do marriages fail easily these days?
It's relative. There is a whole lot to it. Getting married requires a lot of decisions. I tell people to make sure they're prepared before getting married.
Don't you think it's because women are getting more independent?
No, women have always been independent minded. I think the problem is that women now have a say. They've always been independent but there hasn't been an avenue for expressing themselves as such .Now there is . An average Nigerian woman still understands that she must be submissive to her husband or rather being respectful to her husband, if not, they wouldn't be getting married.
If a woman wants to be independent minded, she would rather stay single but an average lady wants to get married. So, they still understand that the husband is the head of the family and all that but the difference now is that they have more say and I think it's relative. I won't blame the ladies and neither will I blame the guys. It all centres on understanding.
What should fans expect from you in 2011?
Greater projects. Nollywood will move-on geometrically. I'm telling you that by this time next year, you will all be proud to be Nigerians, because you will not believe the height Nollywood would have attained and I am glad to be part of it.