JONATHAN/ SAMBO TICKET REMAINS INDIVISBLE – PRESIDENCY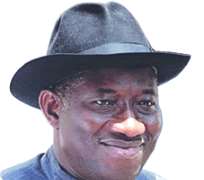 Jonathan
The Presidency has denied alleged plans to replace President Goodluck Jonathan with Vice President Namadi Sambo as the Peoples Democratic Party (PDP) presidential candidate, to pacify the North.
In a statement signed by the Senior Special Assistant on Media and Publicity to the Vice President, Umar Sani, the Presidency described the information as false and a figment of the author's imagination.
He also said the story which was sponsored and laced with mischief was meant to cause disaffection between Jonathan and Sambo.
The statement read: 'A story captioned 'Plot To Replace Jonathan with Sambo THICKENS,' making-the-rounds in media circle is not only false in its entirety but a figment of the imagination of the authors. The entire story as reported is premised on hearsay and falsehood and smacks of sponsorship.
'The whole episode is clearly intended to spread mischief and cause planned disaffection in the formidable Goodluck/Sambo camp. At no time had Sambo ever contemplated being the Vice President of the federation but for President Jonathan who nurtured and ensured its maturity. 'It is therefore preposterous for anyone to even speculate that Sambo would stab President Jonathan in the back going by the synergy they have developed which has always been a source of nightmare to their political opponents.
'Sambo had never minced words in condemning the consensus arrangement by the Adamu Ciroma-led Northern Leaders Political Forum (NLPF). He had maintained that he was the political leader of the North going by the precedence already established in governance by his position as the Vice President and that no such group should go on a journey of usurpation.
'He believed conscientiously that such an effort was an exercise in futility. He holds tenaciously and cherishes his fraternal relationship with President Goodluck Jonathan and could not have condescended so low as to embark on a rat race with his boss.