House Summons Aganga, Governors, Others Over $3.703B Foreign Loan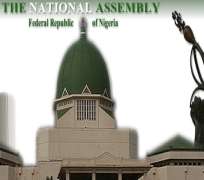 ABUJA, Dec 05, (THEWILL) - The House of Representatives has summoned the Minister of Finance, Dr. Segun Aganga, Seventeen State Governors and the Director General of the Debt Management Office (DMO), Dr. Abraham Nwankwo to throw light on the request by the federal government to borrow a total of $3.702 billion. The states affected include Oyo, Kaduna, Kano, Lagos, Enugu, Abia and Edo Kebbi, Adamawa, Ondo, Ogun, Cross River, Niger, Taraba, Osun, Plateau and Imo states.
Also invited are Power Holding Company of Nigeria (PHCN) and the Infrastructure Concession and Regulatory Commission (ICRC) Chief whip of the House, Honourable Emeka Ihedioha who disclosed this said those invited are expected to explain the rationale for the fresh requests. He said each of loan request will be considered on its own merit at a public hearing scheduled for Monday in Abuja, where Nigerians will be given the opportunity to ask questions and seek clarification on the state of nation's debt. Ihedioha, who is also Chairman of the Joint ad hoc Committee on the Review of Foreign Loans, said it is no longer business as usual as the committee has resolved that henceforth, all loans must be approved by the National Assembly.
"The committee is insisting that all loans must be approved by the National Assembly and at the pubic hearing scheduled for Monday, December 06, 2010, we will take each loan on its merit. We intend to approve loans for infrastructural development. "What we are emphasizing is that you cannot just borrow, but any of such loans must be for infrastructural development-that is for power, water, roads and so on. We are a developing nation and we will take advantage of funds from the World Bank and other donor organisations to develop out economy," he stated. He said the purpose of the public hearing is for the committee to assess the desirability or otherwise of the loans as well as examine their repayment plans. Details of the loan request show that the federal government is seeking to borrow $152 million for power sector reforms through the Power Holding Company of Nigeria (PHCN); $83 million for urban and sanitation projects in Oyo and Taraba states and these are to be sourced form the African Development Bank (ADB). $62.01 million is to be sourced from the Islamic Development Bank for equipping of 300 bed hospital at $44.69 million while $17.32 million is for construction and equipping of science secondary schools all in Kaduna state. A total of $1.215 billion is to be sourced from the International Development Association for growth enterprises and markets in Kaduna, Kano, Cross Rivers and Lagos states at the cost of $180 million; $315 million for the public private partnership under the Infrastructure Concession and Regulatory Commission, $200 million for budget support in Lagos state while $120 million is to be used for rural access and mobility project in Enugu and Osun states. While $200 million each is for special intervention for infrastructural development in Abia and Edo, Kebbi, Plateau, Adamawa and Ondo states respectively. $540 million is to be borrowed from the French Development Agency with $150 million earmarked for national urban water sector reforms for Lagos, Kaduna, Ogun, Cross Rivers and Enugu states. $170 million is for national electricity and gas improvement under the PHCN while $100 million will be used for rural access and Mobility projects in Niger and Imo states.
The federal government also wants to borrow $1 billion from the Peoples Republic of China Global Facility for the Abuja Light Railway and Lagos-Ibadan Railway modernization project. It also intends to borrow $50 million from the Japanese ODA for infrastructural development and social programme development; and $100 million from the Indian Credit Line for Power energy project in Kaduna and Cross Rivers states.