NIGERIAN MEN DON'T BELIEVE IN SUCCESSFUL WOMEN – BUKKY WRIGHT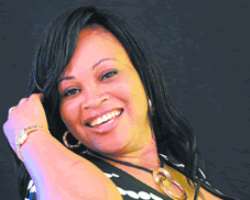 Bukky Wright
Bukky Wright is the cross-over queen in Nollywood . She is one of the very few distinguished actresses in English and Yoruba movies. Her journey to Nollywood started fifteen years ago and despite the challenges she is thriving. In this interview with Sunday Sun, she sheds more light on her project, career, clothing line, motherhood and offered tips on how to stay relevant in Nollywood.
Excerpts:
What's behind Save our soul?
It is my love for children that prompted the project.
What has been the response to it?
A lot of people are responding and of course we hope that more people will still respond.
Tell us how you made it to the top in Nollywood?
Well, one thing I always believe in life is that you should do your best and leave the rest to God. Always be focused. I've done that and I thank God I am where I am today.
Could you give us five tips on staying relevant ?
Number1, believe in God, number 2, believe in yourself, number three, always make sure you are focused. Number 4,you should learn to share. Don't be selfish. Finally you should be very hardworking.
What informed part three of Omatara Johnson?
People like you encouraged me . A lot of people asked for it. Honestly as far as I am concerned, Omotara Johnson finished in part 1 but they challenged me to write part 2 and I give glory to God that I was able to do it. They challenged me again to write part 3 and I give glory to God that I have written that too and I have done the shooting .Now, I am praying to God for it to sell and I believe strongly that it would.
When should we expect part 3?
It's my Christmas and New Year gift to my fans.
Some say successful women slept their way to the top. What's your take on that?
Only the woman knows how she got to the top .I advise women to be resolute and persistent . Infact they should be prepared for opposition on their way to the top. If you want to win the race you should stay focused . You see, all these things are just distractions and because most Nigerian men don't believe in women being successful they tend to say all sorts of things. Some men are just distractions, so just believe in yourself and let them say.
What should budding artists do to stay relevant like you ?
Things I already mentioned . If they adhere strictly to that they will remain relevant.
Is it true that you are the richest Yoruba actress of our time?
(Laughs) I am saying amen to that o!
But it is widely believed that you are the most successful Yoruba actress?
Well, I am saying amen to that again. I claim it.
Why haven't we been seeing you lately on the screen?
I still act but I do other businesses too that demand my time .So I have to manage my time because there will be a time I will not be able to act again. I am not saying today or tomorrow but I should have something to fall back on. Of course if any good script comes my way and I like it, I will pick it up and go on set.
So how is your clothing line doing?
It's doing wonderfully well and I give glory to God.
How did you handle men on your way to the top?
Well, that I would say is not my doing but the grace of God.
How have you been coping with your career, business and as a parent ?
It still comes down to the grace of God but I thank God, because you cannot do it alone. Also people around me have been of great help.
What's the difference between Omotara Johnson and Bukky Wright?Are they alike?
Well, I can't say that but I know and strongly believe that I am not like Omotara Johnson. It's a free world and people have a right to their views and believe whatever they want . I will play any role the scriptwriter wants me to, but I am not like Omotara Johnson off screen.
You sound so religious and this contradicts the impression many of your fans have about you?
I believe so much in God and to my understanding I am a very religious person but it now depends on your definition of being religious . I know I'm not fanatic and I am not a hypocrite. I believe strongly in God and I pray and fast a lot. I believe that without God, you can do nothing.
How have your children been able to handle your controversial self?
They know their mother so well and it doesn't bother them.
Like I said earlier, it doesn't bother them because they have grown up to learn and understand the other side of stardom.
Are you saying that they have never been teased or taunted about it?
They know their mother so well and they have learnt to stand up for themselves when they are faced with such situation. Honestly, I thank God for having very confident children.
Do you see your kids becoming thespians?
Well, if it suits them fine , but I would want them to excel in anything they are do.