WE APPROVE OF EACH OTHER'S BOYFRIENDS OR THE RELATIONSHIP WILL FAIL – ANEKE TWINS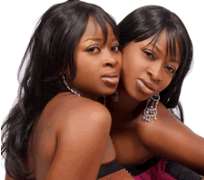 Aneke twins
Chidiebere Aneke and her twin sister, Chidinma, could easily pass for one of the few female actresses who have made a mark in Nollywood. Apart from acting, these delectable actresses are also producers.
With the Greenville Production International, the Aneke twins have carved a niche for themselves in the movie industry, producing about 18, and starring in over 50.
Recently, the Enugu State-born actresses were in Lagos, in connection with their new movie, entitled, Days of Blood and Sister's Face. They spoke with Saturday Sun about their acting career and business of movie production, among others, with each taking on whatever question and answering for the two.
How did you start your acting career?
Our elder sister introduced us into acting in 2000. She took us to location, where Chiege Alisigwe was shooting a movie. We fell in love with what they were doing. Before we could join, we had an agreement with our elder sister that our studies won't suffer because of acting. We promised that we would not go into full-time acting until our graduation from the Institute of Management and Technology (IMT), Enugu. I will say we started acting professionally in 2003, after our youth service.
What is your discipline?
We studied Business Administration and Management.
How many movies have you featured in?
They are uncountable, but I will mention the ones I can remember, like 2 rats, The Man, Oloja, Lagos Girls, Female Lion, Broken Ambition, Rude Girl, Desperate Soul, Ujuaku, Compulsory Risk, Secrete Blood, Holy Oracle, Personal Desire and many others.
Which role is your most challenging role?
There are many, but our most challenging was where one of us had to slap the other twin sister. We found it challenging because it had to be a real slap. Imagine when you are asked to slap someone you love; it was a difficult task for me. The role was then reversed and my twin sister played the part where she had to slap me. After she slapped me, she started crying and we cried together because we had hurt ourselves.
How many movies have you produced?
We have produced over 18 movies. The first movie we produced was entitled, Broken Ambition. Initially, we produced movies and sold outright, which actually contributed to the success of our films, both production and marketing. We also produced Female Lion, Mystery Ring and others.
We went into production because we didn't want to work under anybody. We prefer to be self-employed. Even at a very tender age, we had dreamt of employing people. And we are very grateful to God that our hearts' desires have been actualised. We also went into movie production to touch the lives of people, especially the needy. My bishop always tells us that life is not all about wealth or achievements but the number of lives one has affected.
How were you able to go into it, with the huge amount of money involved?
In fact, we don't know how the money was realised, but we thank God for His mercies. The money we invested in our first movie was picked from miracle basket in our church. And we also received financial support from a stranger. In fact, the money wasn't enough, since our destiny was linked up with the commission and the church was growing rapidly. I was almost moved to borrow from our church, but my sister declined, believing that God, who gave us the vision immediately after our Bible school, would supply all our needs. We are grateful to God that despite all the challenges, our films are selling massively in the market. And we are marketing our films to the glory of God.
What are the challenges you encounter in production?
Finance is the major challenge. During the production of our first movie, we starved ourselves, just to make sure we didn't waste our resources. Waking up our casts in the morning is also challenging, but we are always grateful to Mama Gee, Abraham and the director, who are supportive. It is really challenging to get people who would allow us use their houses for location.
How much does it cost to produce a good movie?
It depends on the script. There is a script of N3 million, N2.8 million, N4 million and N5 million. So, it depends on the script. Every story is a good movie, but it is the ability to work on the story that counts. Though my idea may be different from yours, but that doesn't mean that you wouldn't work on it. You have to edit the story by calling script conference. And you make sure you produce the film depending on what was budgeted.
What has celebrity done for you?
We are blessed. As twins, people give us support without us asking for it. I remember vividly during my youth corps programme. I featured in a flick, Lagos Girls. I received royal treatment at the camp, as a celebrity. Another experience is whenever we are on a long queue, we are asked shunt, as stars. So, we are enjoying stardom. It has affected our lives positively.
Are you still acting, since you are making money from production?
Acting is our career, while movie production is our business. We don't want to do buying and selling, as we have passion for entertainment; so we decided to diversify into movie production instead of trading.
How do you keep fit?
We do abdominal exercise, aerobics and we diet to maintain our shape. We also eat a lot of fruits and vegetables.
As actresses, have you ever experienced sexual harassment?
We have never experienced it. Since we started, we get roles without struggling for them. We attend auditing and come out tops. We also get roles from producers, who have watched our movies. In fact, we don't know if such exists in the industry.
If you get married would you quit acting?
No! My husband has to accept what I'm doing. Since I was attracted to him as an actress, why would he want me to quit simply because I'm married to him? I can't imagine myself working in a corporate organisation. I can't be a housewife because I dislike staying in a place without moving. We are industrious twins and we hope to marry people who would appreciate us for who we are. Such husbands will see me as their sisters and not just their wives.
How would you assess the Nigeria's movie industry?
We have actually made impact globally and internationally. The artistes, directors, producers and marketers have done well. If you watch the movies we produce, you will agree with us that it's not what it used to be. The picture quality, customs, make-up and others are now sophisticated. It not easy to produce a movie in seven days, which is another dimension of the progress of the industry. We believe that before 2020, the industry would be the greatest in the world.
Who are your ideal men?
We like God-fearing men who will appreciate us, pamper us because we love to be pampered. Our ideal men are people who wouldn't beat us for any reason. Also, our ideal men are people who have fear of God because with it, he wouldn't be able to beat us cheat on us or lie to us.
Are you into any relationship?
Yes? But we don't want to talk about our private lives.
Would you marry the same man as twins?
No! We pray to get married to twins, but God knows the best for us. If our husbands are not twins, we will always visit each other because the bond we share is stronger than life itself. And we pray to get married the same day.
How was your growing up experience?
It was so wonderful, with the love of our late father who always protected us. Whenever my twin sister fell sick, I also went on admission with her. In fact, growing up was memorable because we were treated the same way; we wore the same dresses and made the same hair. Whenever she had a cut, the same happened to me. In fact, whenever we remember some of the funny things we were doing as kids, we laugh over them.
What is the greatest lesson your mother ever taught you?
She taught us to be prayerful, respectful and to be humble. She always taught us to embrace peace because she is a very peaceful person. She taught us to be industrious and hardworking so that we wouldn't depend on anyone.
Do you love your boyfriend, the way you love your sister?
No! If I'm in a relationship and she doesn't like the man, I will quit the affair, because she will make sure the relationship ends. The same thing is applicable to her; if I don't like her man, I would do everything within my power to destroy the relationship. I have never loved any man the way I love my sister.
Have you ever been embarrassed as an actress?
People almost beat me in the market after a role I played in the flick, Oloja with my twin sister, where Muma Gee was our mother. We maltreated her in that movie. So, when people saw me at the market, they rained abuses on me.
Would you act nude?
It depends on what you mean by acting nude. I'm an actress and it my profession. I can act nude, but it depends on the role. If I'm portraying a character that detailed on someone being nude at a point and not a pornography, I would, especially if viewers would learn something from it.
What would you like to be remembered for?
We want the underprivileged, widows and the handicapped to remember us for our kind heartedness and generosity. Because when you are privileged to gain fame and money, it doesn't count when you continue buying luxury cars, living in a twin duplex without touching the lives of the needy. So, we are asking for the continuous blessings of God, to see us through our desires in life.
When was the saddest moment of your life?
That was in 1998 when we lost our father. It was like a dream because we couldn't believe we've lost the bread winner of our family. And recently we lost our younger brother. Till date, we are still in stock of their death.
What is your philosophy of life?
Life is what you make out of it. You don't have to see life as a difficult task; rather you strive to succeed. We don't believe that you must struggle to survive because the Lord has assured us that every good and perfect gift cometh from Him and he will supply all our needs according to his riches. So, whenever you wake up, give thanks to God, because He sees your tomorrow.
What lesson would you say that life has taught you?
Life has taught us to be hardworking and respectful. To be successful in life, you have to be humble, because when you choose to be a proud person, you will definitely fail. Wherever you find yourself, try to put a smile on your face, no matter the weight of your problem, because you may be saving a soul with that smile.