Pro-Jonathan Group Plagiarised Atiku Policy Document - Atiku Campaign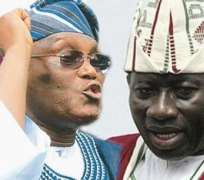 ABUJA, DEC 02, (THEWILL) - The Atiku Abubakar Campaign Organization has clarified that the Pro- Jonathan Campaign group which accused it of plagiarism was out to mislead the Nigerian public in its desperate quest to benefit from the $50,000 per group bazaar in the Presidential Villa.
The campaign in a statement today affirmed that its policy document on power and energy is original and that the man who was credited with the original work actually plagiarized the Atiku Policy Document.
"While it is public knowledge that Atiku formulated his Policy Document after series of studies and consultations culminating in a retreat of 150 Nigerian scholars, professionals, experts and critics from all walks of life in June, 2006, the publication which the pro-Jonathan campaign group said is the original document was published widely on the internet and newspapers including the Punch and Independent," the Campaign Organisation said.
The organization stated that the material alluded to by the pro-Jonathan group was actually published in the Punch Newspaper of November 16 and 17, 2010, four clear years after the Atiku Policy Document was published.
"We are certain that the pro-Jonathan campaign group knows the difference between 2006 and 2010 and that a publication of 2006 could not have plagiarized a work of 2010," it said.
We, however, wish to acknowledge that the pro-Jonathan group applauded the quality of Atiku's ideas about solving the electricity problem in the country. In the words of the pro-Jonathan campaign group, the policy initiatives are "intelligent enough even revolutionary as it outlines some of the issues prevalent in the sector today and concisely proposes quite interesting solutions to their resolution."
The Campaign Organisation advised the Jonathan camp to tell Nigerians what it will do if elected rather than embarking on a voyage of misinformation.