REJECTED CONTESTANTS SHOW EMOTIONS ON IDOLS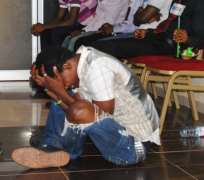 It's the moment of truth in the first season of Nigerian Idol. The judges are saddled with the responsibilities of separating the weed from the seed.
"Being a judge is not easy" Yinka Davies stated on the show last week. And a lot of TV viewers can attest to this as many who failed to impress the judges at the Enugu auditions were bluntly shown the way out.
The attendance in Enugu was enormous, the talents were impressive, and the talentless gave the judges a tough time, even Yinka Davies laughed really hard till tears filled her eyes at some point.
The tears didn't stop with Davies. Two contestants broke into tears at the sound of a unanimous NO from the three judges; one even went as far as rolling on the floor as Anis tried to convince him that it was not the end of the world.
All over the world talents in search of the big break scramble to audition for Idols. And as a matter of fact we should be expecting more with Nigerian Idol. The country is buzzing with enormous musical talent, and the past years have seen the enthronement of a vibrant pop culture and music system. And with Jeffery Daniel, Yinka Davies and Audu Maikori serving as judges the bar has been set even higher.
The funniest part of the Enugu auditions was when contestant 1419 boldly said on national TV that he was rewarded with two "Yes-es" when in actual fact, the cameras caught the judges telling him he couldn't continue in the competition!
If these contestants failed to meet up with standards, the judges got rewarded at the end of the show- they found 13 hopefuls who were
shortlisted from the Enugu auditions. "I am dying to see your future as a solo act" Jeffery Daniel couldn't help the smile as he gave out the first golden ticket of the day.
The stiff competition this year will begin with a hundred contestants slugging it out for a grand prize of 7.5 Million Naira and a record deal with Sony BMG.
Sponsored by Etisalat in association with Royal Exchange and Pepsi, the journey to discovering Nigerian Idol will take the mould of the original Pop Idol. Host Misi and Anis will take TV viewers through auditions, the Theatre episodes, group work shop episodes all the way
to the live shows.