IT'S DREAM FULFILLED – SIASIA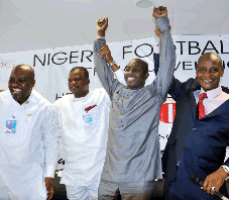 From L-R: Chairman, NFF Technical Committee, Chris Green, NFF Vice President, Mike Unmeh, Samson Siasia and NFF predident, Aminu Maigari at the unveiling ceremony of Siasia as Super Eagles' head coach in Abuja on Wednesday
Samson Siasia has sensationally revealed that becoming Super Eagles' handler has been his long-time dream, adding that he's excited that it has finally come to fruition. Siasia said after he was unveiled by the Nigeria Football Federation (NFF) in Abuja on Wednesday that he was aware of the task of building a formidable team and called on the country's FA and other stakeholders to give him their backing as he needs time to achieve that aim.
'I am happy with this appointment because this is a day that the Lord has made. I promise that I will give my best and I promise that the next time you see the Eagles, they will be a different team. Also, it will take the support of everyone to build the dream and we also need time. I promise to do everything humanly possible to make the Eagles fly again,' he said.
'We will together work very hard to ensure we have in place a formidable Super Eagles that will be the pride of all and that would make everybody happy,' said the 43-year-old Siasia, who had his proud parents in attendance at his public presentation.
Former international striker, Siasia, was considered ahead of Togo's ex-coach, Stephen Keshi, for the country's top coaching post. The popular coach guided Nigeria to the final of the 2005 FIFA Under-20 World Cup and the 2008 Olympics in Beijing, China. His immediate task is to ensure Nigeria qualify for the 2012 Africa Cup of Nations in Gabon and Equatorial Guinea.
The Eagles are three points behind group leader, Guinea, after two matches with only the eventual group winner guaranteed automatic qualification to the tournament.
Madagascar and Ethiopia are the other teams in their qualifying section.
NFF President, Aminu Maigari, said Siasia was a good choice to lead the country to many successes.
'We are happy to find a very able candidate, who can pilot the Super Eagles to successes. We will give him and his team the conducive environment to perform and succeed,' promised Maigari.
'The NFF is excited to have been able to conclude the engagement of a coach for the Super Eagles.
'Siasia is a good choice, Nigerians' choice, the peoples' choice.' He added: 'The contract is for four years which is renewable and good performances would attract various incentives along the line.
'Siasia needs to hit the ground running because the task ahead is enormous and Nigerians are anxious.'