NIGERIANS SEE HELL IN BENIN REPUBLIC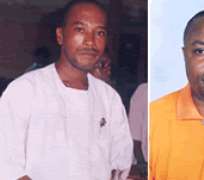 Samuel Eyinnaya…In prison & Mathew Okorie …Killed
Wednesday, July 15 will remain indelible in the memory of Nigerians resident in Cotonou, the capital of Benin Republic. It was the day that country's security agents brutally murdered one of them, Emeka John.
Perhaps, Emeka would not have made the journey if he had the premonition that he was embarking on a journey of 'no return' when on Monday, July 12 he headed for Cotonou to buy goods.
Emeka's death is one of the many cases of extra-judicial killing of Nigerians resident in Benin. Sad enough, they are never investigated by the country's authorities even as the Nigeria community protests repeatedly.
Emeka was not a first time visitor to Cotonou. He had lived there for years, doing business before he relocated to Nigeria early in the year. His kinsmen on compassionate ground accommodated him. None of them foresaw the ominous danger ahead.
Emeka's principal host, Victor Chimela Benson had planned hitting the market early on Wednesday, July 15. He woke up on time for his morning devotion. And just as he was saying his last 'Amen' at about 7 a.m., a barrage of knocks hit his door.
Lost as to who would be knocking at that hour of the day, Victor rushed to open the door, only to see himself standing face to face with stern looking armed security operatives. Their unfriendly looks were enough to tell Victor that it's doomsday for him.
First, they asked for Emeka's where about. He quickly told them Emeka was inside the house. His interrogator immediately dashed in, then out, searching for Emeka who was then in the bath room. With confidence, Emeka came out to voluntarily surrender himself.
Meanwhile, the security operatives had ordered all occupants of the compound out of their homes. They were made to lie down in the open with their faces covered. Not even a pregnant woman, Mrs Catherine Enyinnaya was spared. It took the fervent plea of a 'neighbour' before she was allowed to sit on a bench.
Interestingly, Catherine's husband, Mr Samuel Enyinnaya was among those dragged out. He was in the toilet when the policemen arrived. He had a bizarre experience.
'They dragged my husband out naked'
Catherine narrated her experience to Daily Sun: 'On that day, we've just ended our morning devotion when my husband went to the toilet. At about the same time he entered the toilet, a man came knocking on our door, asking for a certain unidentified man. I told him I don't know the man and suggested he should ask a Beninese woman (our neighbour). I then shut my door.
'Within ten minutes, the man ran back, knocking and asking us to open the door, shouting the man was in the compound. At this point, another man came and asked me: 'Where is your husband? I told him, he was in the toilet. He just walked in and opened the doors to our rooms, brought out a gun to my surprise and as I was asking him what is the matter, he said, 'wait…wait…wait; you'll know what happened, we're looking for a thief who is inside this compound.' By now he had dragged my husband from the toilet naked.
He only allowed my husband to wear another dress I brought from the room after I had exchanged hot words with him.
When I opened the door, the compound was already full of policemen and soldiers. They ordered us (the tenants) to lie down. It was the plea of one man that I am pregnant that made them to allow me to sit on a bench.'
An eyewitness that asked for anonymity told Daily Sun that Victor Chimela Benson had lived in the compound for about eleven years and he had never been associated with criminal activities.
How Emeka was killed – Eyewitness
Daily Sun was told that after the tenants were ordered to lie down, their faces were covered apparently to prevent them form observing the movement the security agents within the compound. He said one of the policemen took Emeka to the back of the building. 'They were there for about ten minutes. Then, we had three gun shots.' About three policemen came out from the back of the compound after we heard the gun shuts but without Emeka.'
The source said, by the time they asked the tenants lying on the ground to stand up, the body of Emeka had already been brought to the compound. They ordered Victor and the other Nigerian tenants to carry Emeka's body into the vehicle they brought. They took away both the body of Emeka and his kinsmen (Nigerian tenants living in the Compound). Four months after, the four Nigerians had returned.
Samuel Enyinnaya, Chijindu, Madabushi, Nkemdirim and Victor Chimela Benson are in prison without hope of being charged to court or getting bail. It is however curious that they were not given the opportunity to consult a lawyer. Again, during their interrogation, they were not given interpreters, as they are not fluent in French language.
Observers wondered why the policemen searched the house of Victor Chimela Benson without him or any of his relations allowed to observe the exercise. But more disturbing is the fact that the policemen locked up the house of Benson. It is feared that they took away money and property belonging to him and his brothers. As at the time of filing this report, the house was still under lock.
Following heavy rain showers, the property of Victor Chimela Benson and his brothers may have been destroyed as the compound is in a flood-prone area.
Mathew Okorie, killed July 28, 2009
The death of Mathew Okorie was one death that sent shock down the spine of Nigerians. That is because he was progressing in his business and also, popular among his kinsmen. He was indeed a philanthropist.
Mathew was returning from his shop at night when he met his untimely death in the hands of the police. Dependable sources told Daily Sun that the police stopped him and asked for his vehicle particulars, an order he obeyed without resistance. 'As soon as he handed the documents to his interrogators, they drove from the spot in their car while Mathew drove behind in his vehicle. Midway along the road, the police stopped, disembarked. Mathew also stopped and disembarked.' Apparently not satisfied with Mathew's response to their request for 'settlement' for an offence he had not committed, the police tear gassed him. He was reported to have slumped and died on the spot.
Expected, the police rejected a demand by the leadership of the Nigerian Community for his autopsy report. Rather, they compelled his relatives to remove the body for burial within seven days to prevent from decomposing. Mathew had a wife and two children.
Ibrahim Yakubu killed under mysterious circumstances
Ibrahim Yakubu was killed under very strange mysterious circumcise at Dassa town by Benin Republic Gendarmerie. Though over a year now, the authorities are yet to respond to queries made by the Nigerian community. It is obvious that they will never get an answer.
An unnamed Nigerian in prison
A Nigerian has been in prison for several months now without hope of being charged to court or at least getting police bail. Sources told Daily Sun that he was arrested following the killing of an American female Peace Corp serving at Bajide. Though he was not 'around' when the American was killed, he was arrested as a result of an alleged text message he once sent to the woman. 'So, it was based on that premise that he was picked,' the source said. 'But there was nothing incriminating about the text. I even learnt that the United States Federal Bureau for Investigation came here for investigation of the matter and no reference was made to this Nigerian as far as we can remember,' he added.
Innocent Iwu killed at Ekpe town
Innocent Iwu's death is another classic case of how Nigerians are slaughtered periodically by Benenise at the slightest provocation. He was brutally murdered in broad daylight at a car park where cars are sold for his effonttery in asking for his balance after he paid for a GSM credit card. 'A soldier shot him because of a misunderstanding over 'change'. He bought 500 cfa. He gave the woman who sold it to him 1,000 cfa. As the woman had no balance of 500 cfa to give him, he asked the woman to return the money to him with a promise to look for 'change' and return to give her the 500 cfa.
'As an argument ensued over Iwu's request, the woman raised alarm, shouting 'ole-ole, omo Nigeria ole-ole, omo ibo ole-ole. At this point, a soldier simply called Sule came to intervene. But in the process of interviewing Iwu, matters got awry. Before Iwu realized the danger he was facing, the soldier had hit him with the butt of his gun. Just as Iwu fell down, the soldier corked his gun and fired a shot at him. Iwu was quick to dock and the bullet hit a rock, ricocheted and hit a Benenise.
The soldier was not done. In a 'Commando' style, the soldier released a second shot which Iwu was not lucky to escape. He fell down bleeding. Even as he was bleeding along side the Beninese hit by the first bullet, the soldier prevented sympathizers from coming to their aid. He ensured that Iwu bled to death rather than get him to hospital for treatment. While the Beninese died the same day, Iwu died the second day. As at the time of filing this report, the authorities have not considered it necessary to hold talks with the Nigerian community and the Nigerian embassy on innocent Iwu's death.