DEFENCE MINISTER ALLAYS FEARS OVER ARMS IMPORTATION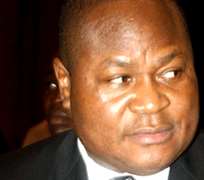 Adetokunbo Kayode
Against the backdrop of perceived threats to the 2011 elections as a result of the recent upsurge in the illegal importation of weapons into the country, the Minister of Defence, Prince Adetokunbo Kayode, on Tuesday in Kaduna said the nation's security agencies were ready to ensure the peaceful conduct of the poll.
The minister, who addressed a press conference at the Nigerian Defence Academy, Kaduna after declaring open a conference organised by the Association of Bursars of Nigerian Universities, assured that the 2011 elections would be conducted peacefully in spite of the activities of the importers of illegal weapons.
Kayode urged Nigerians not to lose sleep over the alleged circulation of illegal arms in the country because adequate measures were being taken by the various security agencies and his ministry to block the routes through which they were being brought into Nigeria. He assured Nigerians that security agencies would not relent in their efforts to track down those involved in such illegal trade.
'There is concern about proliferation of arms, small arms and light weapons. Government, for instance has set up the National Technical Commission on Small Arms and Light Weapons, which is based in my ministry, and we are working very hard with security agencies to control (the situation), not only in Nigeria, but in the entire West and Central Africa.
'This is because nobody is an island, and you know we have boundaries and borders with at least four countries as well as the maritime boundaries. These are areas through which people can bring in arms. It is a universal thing, it is a general thing now; but coming specifically to the 2011 elections, you know in Nigeria, you media guys always believe that the world will come to an end just as the elections are coming. But it is not going to happen. We will have fair and free elections.
'Let us wait for April 2011 when we will have free, fair and peaceful elections. The people will take their own decision, and I believe that their decision will be informed by the quality of candidates that will be presented to them for election,' he said.
The minister urged journalists to exercise caution in reporting security issues, adding, 'Light weapons and small arms have always been proliferated because of poverty in countries like Sudan, Central Africa and so on. So there is a lot of trade in arms generally, but I am not saying that it is principally because of the elections.'