RE: DELTA STATE ELDERS, LEADERS AND STAKEHOLDERS FORUM'S SPURIOUS ALLEGATIONS AGAINST DAVNOTCH NIGERIA LIMITED OVER THE DELTA STATE INDEPENDENT POWER PLANT (IPP) PROJECT, OGHAREKI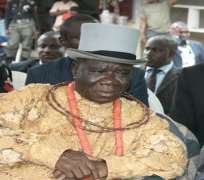 Our attention has been drawn to a purported petition written by Chief Edwin Kiagbodo Clark and his self serving cohorts masquerading as the Delta State Elders, Leaders and Stakeholders Forum addressed to the Chairman of the Economic and Financials Crimes Commission (EFCC), Mrs. Farida Waziri alleging various LIBELLOUS and SPURIOUS claims against our firm, DAVNOTCH NIGERIA LIMITED.
The purported petition captioned: "EFCC Is Currently Probing The Independent Power Plant (IPP) At Oghareki And We Are Calling On Your Commission To Prosecute The Illegal Government Of Dr. Emmanuel Eweta Uduaghan And His Cohorts For The Economic And Financial Crimes Committed In The Ipp Project", which was deliberately leaked to an online tabloid alleging that DAVNOTCH NIGERIA LIMITED was used by the Delta State Government under the leadership of former state Governor, Dr Emmanuel Uduaghan "to loot funds through the IPP project, rather than contribute to the development of the state."
The petitioners also listed various payments made on the IPP project totaling "Fourteen billion, eight hundred and Seventy nine million, four hundred and ninety five thousand", alleging that "there is nothing on ground as what is left is an empty land over grown by bush."
Clark and his cohorts in their poorly worded petition (note the grave grammatical errors below) also alleged that: "In our own investigation, we also found out that there was no contract signed between Davnotch and the Delta State government. There were no invoices. Do due process followed in the award of the contract. There was no letter of credit involving the contract between Rolls Royce and DavNotch Nig. Ltd. And the reasons behind the secrecy of the amount of invoice the Delta State government paid was not disclosed is because there are shady deals involve which the Delta State government wants to keep in secrecy. The realty is that there is neither mechanical nor civil work on the site, the conclusion is that all the money claimed to have been expended on the site and materials merely ended up in the pockets of Dr. Emmanuel Uduaghan, Hon. Victor Ochie and Ovuezorie Macaulay."
For the sake of clarity, DAVNOTCH NIGERIA LIMITED has decided to correct the lies and misleading information put out in the petition to achieve the devilish aim of the authors.
We have taken the time to address all the claims made in the petition against our esteemed company reputed for delivering high standards in our services.
ON THE ALLEGATION THAT DAVNOTCH NIGERIA LIMITED WAS USED TO LOOT DELTA GOVERNMENT FUNDS
DAVNOTCH NIGERIA LIMITED was incorporated on July 04, 1997 as a civil, mechanical, electrical company and has witnessed verifiable track record of successes since we started executing various specialized contracts for both federal government parastatals, state, and privately owned companies as far back as 1997 before the current democratic dispensation.
On June 23, 2009, the state government after following DUE PROCESS via the State Tenders Board getting approval from the state Executive Council and the subsequent publication of the proposed Independent Power Plant (IPP) construction approved the award of a N21.75 billion naira contract for the IPP project with a timeline of 24 months for completion and a 60 percent down payment. This can also be verified as contained in the Delta State Government Due Process Journal of January-March 2010, page 28, sub number 15.
We can categorically state that DAVNOTCH NIGERIA LIMITED won the bid following our track record of competence and timely delivery on projects. The contract was duly approved by the Executive Council of the Delta State Government in their meeting of May 12, 2009. The council approved that an offer of N21.75 billion naira be made to DAVNOTCH NIGERIA LIMITED and on acceptance, DAVNOTCH should be paid a 60 percent down payment to fast track delivery on the project.
Following the exco's approval to pay us a 60 per cent mobilization fee of N13.05B, and not (Fourteen billion, eight hundred and Seventy nine million, four hundred and ninety five thousand) as claimed by the authors, the Ministry of Finance was unable to make the payment in one go. The ministry made payments in various tranches and only successfully completed the payment of the 60 per cent mobilization in full in July 2010, about four months ago. The records are available in the Ministry of Finance for verification.
From a professional standpoint, the 24-month duration of the project should become effective on the day the 60 percent was paid in full.
Notwithstanding this shortcomings, DAVNOTCH went ahead and mobilized funds to order two (2) current series brand new Trent 60 type-4 Rolls-Royce 64 mega watts turbine engines which we can boastfully say has been paid in full and DAVNOTCH NIGERIA LIMITED does not owe Rolls-Royce a dime. A letter detailing a statement of account between DAVNOTCH and ROLLS-ROYCE dated September 07, 2010 and signed by Robert Wolfe II, Marketing Manager Power Generation in Roll Royce Energy, with reference number Project M.A 580 lists different invoice numbers of payments made by DAVNOTCH NIGERIA LIMITED and states in the last paragraph that:"…the report reflects a zero balance as of September 02, 2010." This claim is verifiable at Rolls Royce.
The respected engine manufacturers thereafter recommended PSL Engineering and Control Limited, an Engineering Procurement and Construction Company (EPC) for the Rolls Royce turbines as technical partners to DAVNOTCH for the project to enable Rolls-Royce manufacturer warranty become operational after the turbines would have been delivered to Oghareki in Delta State.
PSL Engineering and Control Limited is a reputable company and has an impressive track record having provided technical assistance to major oil companies operating in Nigeria like Total of France.
We have also made payments for Balance of Plant (BOP) equipment to companies in Europe, Asia and the United States of America. These include payments for transformers, Generators, Instrumentation and Control Panels, fire fighting and protection equipment, construction of various capacities of storage tanks, skids, etc. There are invoices to show for these purchase orders and are open for scrutiny in our corporate office.
So we ask Clark and his voyagers, where have we committed any financial crime(s)?
ON THE ALLEGATION THAT DAVNOTCH NIGERIA LIMITED HAS ABANDONED WORK AT THE SITE FOR THE PROJECT
We like to categorically state that the statement is FALSE and a figment of the imagination of the authors. Chief Clark and his co-travelers are only being mischievous and peddling falsehood to smear our hard earned reputation built over the years. We urge Chief Clark and his co-authors to take sometime off their voyage of character assassination and research the processes involved in the procurement and installation of a functional IPP in order to understand the technicalities and complexities involved in the process. They may as well visit our headquarters to receive tutorials free of charge. We ask the authors, does it make logical sense to abandon site after DAVNOTCH NIGERIA LIMITED has ordered and made full payments for most of the equipment needed to complete Delta State's first IPP?
Based on our work schedule with Rolls Royce after the manufacturer received 100 per cent payment upfront to fast track the production of our turbines, the company is scheduled to ship them to us in August 2011. This is also verifiable at Rolls Royce.
As experienced civil engineers familiar with the Niger Delta terrain, we know that it makes no operational sense to deploy machinery to site during the rainy season, as it makes no structural or management sense to do so.
There are also regulatory issues that we are finalizing with the Nigerian Electricity Regulatory Commission (NERC). The federal government agency is mandated to regulate and issue licenses to power generating companies in Nigeria. DAVNOTCH NIGERIA LIMITED has since filed the necessary documentations at NERC with relevant fees paid as we await approval for the Oghareki IPP license. The records are there at NERC for verification.
In addition, DAVNOTCH NIGERIA LIMITED has also carried out load-flow studies in compliance with Transmission Company of Nigeria (TCN), a subsidiary of the PHCN to ensure that the power generated from the plant can be evacuated into the national grid. Having successfully carried out the load-flow study the TCN has granted a provisional approval to the Delta State IPP in furtherance of its quest to build a durable power plant.
We restate our commitment in the ability of Nigeria's anti graft agency to decipher between genuine allegations and WICKED ones aimed at destroying the reputation of a truly genuine company with proven records of excellence.
Let us not let politics becloud our reasoning. IF BUILDING A POWER PLANT IS THAT EASY OUR COUNTRY WOULD HAVE SOLVED HER POWER PROBLEMS A LONG TIME AGO CONSIDERING GOVERNMENT'S RESOLVE AND COMMITMENT TO IMPROVE POWER SUPPLY IN THE NATION.
We urge the general public to disregard the blatant falsehood being peddled by the Delta State Elders, Leaders and Stakeholders Forum and other detractors.
Signed:
Management, DAVNOTCH NIGERIA LIMITED.
Disclaimer:

"The views/contents expressed in this article are the sole responsibility of

thewillnigeria.com

and do not necessarily reflect those of The Nigerian Voice. The Nigerian Voice will not be responsible or liable for any inaccurate or incorrect statements contained in this article."
Articles by thewillnigeria.com