PDP may revisit waiver granted Atiku says Gov. Akpabio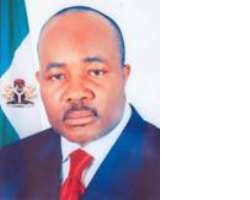 Godswill Akpabio
Governor Godswill Akpabio of Akwa Ibom State, on sunday said the leadership of the Peoples Democratic Party (PDP), might take a second look at the waiver granted Atiku Abubakar.
Akpabio , said that a screening committee might be set up by the PDP to determine if the waiver granted Abubakar followed due process.
"We are still not sure that the due process of getting waiver has been followed. So, we are still waiting to see the screening committee result (and) when they (aspirants) will eventually face the screening committee," the governor said.
The former vice-president decamped from the PDP to the Action Congress (now Action Congress of Nigeria) to pursue his presidential ambition, after his disagreements with former President Olusegun Obasanjo had deepened.
He was the candidate of the AC in the 2007 presidential elections but lost to the PDP condidate, the late President Umaru Yar'Adua.
Abubakar returned to the PDP after he was granted a waiver by the Okwesilieze Nwodo-led National Working Committee.
Akpabio raised questions on Abubakar's pictures, published in newspapers after his declaration as the consensus candidate of the North by the Northern Political Leaders Forum.
The pictures, according to him, showed the presidential aspirant holding a broom, the symbol of the ACN. This, he said, raised questions about Abubakar's loyalty as a member of the PDP.
The governor said, "If you noticed, immediately after the announcement of the consensus candidate, the picture that was shown was a picture (of him) with a broom, sweeping and showing previous campaigns of the former vice-president as AC presidential candidate.
 
"For us, we were shocked. If you were jubilating with a broom, that shows clearly that we are talking about two different (political) parties, one AC and one PDP, then something is wrong."
But Akpabio added that Abubakar was not a threat to President Goodluck Jonathan's presidential ambition.
He argued that while Abubakar was yet to find his feet in the PDP, Jonathan and Vice-President Namadi Sambo, had been established in the party.
"As at today, I have not seen much and I believe that the PDP governors and faithful will return President Jonathan, and Sambo, as the PDP consensus candidate for the 2011 presidential election," he said.
The governor also added that Abubakar was a candidate of a "panel of friends" while the Goodluck/Sambo candidacy is a national ticket.
"The other one (Abubakar) was the consensus candidate of a panel of good friends. But this one, we will be looking at President Goodluck/Sambo as possible," he said.

 


Readers' Comments