NOLLYWOOD STARS Making fortunes from music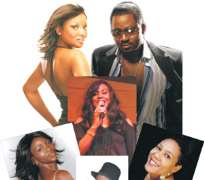 The trend began with the release of Genevieve Nnaji's hit track 'No More' few years ago amid controversy. Thereafter the fire spread, and hitherto caught up with virtually all our screen gods and goddesses.
And today, the implication lies in the fact that in a few years from now, the nation will be confronted with the reality of producing more actors-turned-musicians than it will produce musicians-turned-actors.
Genevieve's emergence in the nation's music scene opened the floodgate for other movie stars to follow suit.
Her album which was banned in Nigeria, later was selected by Yinka Davies in the Sound City star host as one of the ten top videos.
Unfortunately, since debuting with that album, Genevieve is more visible on screen than she's in the studio.
An indication that the Imo State born actress did not only adhere to the valuable advice by her critics from the outset to concentrate on her acting career which has brought her to limelight and given her fame than trying her hands in a dead talent, but that music as it were, did not put food on table.
Shortly after Genevieve hit the street with her "No More" album, Omotola followed suit with her hit track 'Gba" in 2005. Though Omosexy's critics believe she's more of an actress than a singer, the actress' much published debuted album received little attention. But according to the singer, 'the album was one of the best deals in 2005' and sold 'over a million copies.'
Omosexy was not discouraged either, as she recently released a thirteen_track album titled 'Feel Alright'.This follow up album was coming after five years of debuting with her first album.
By her second album, the screen goddess has reiterated her commitment to hold her own in the music industry. Even at that, observers believe, her acting career is being threatened by her incursion into the music genre.
Nkem Owoh's 'I go chop your Dollar' was well received by the audience. His album was said to have sold more than a million copies and was widely accepted, having come from Chukwuka Emelionwe's Kasvid Ventures.
Report had it that what happened subsequently took the shine of "I go chop your dollar" as Stanley Okorie, the ace sound tracker was said to have appeared from no where and claimed that the album was his intellectual property.
The one time highest paid actor has since released a second album to prove critics wrong titled 'Osuofia "don come again', but the one was not as successful in the market as the first. May be, the comedian- actor is working on his third album. Who knows!
Also joining the bandwagon of actors-turned-musicians were two actors of a kind Victor Osuagwu and John Okafor a.k.a Ibu. While Victor's 'Man na Mumu' album was a hit, Mr. Ibu's "Dis Girl" raised dust in the music scene.
Victor released his hit track '; Ije Love 'in vernacular. Critics recounted how he displayed much of chauvinistic sentiments singing and dancing with traditional Igbo dancers. But it's surprising that after that album, which was described as 'incisive and inspiration,' Victor has failed to leave up to the expectation of his fans.
But like Genevieve, Victor has not been able to sustain the tempo, as he has never done his second album.
The same thing is applicable to Mr. Ibu. His album, described as "blending romance and activism"in one album is a height of creativity. The message was clear in the hit track 'Annoyed' where Okafor a.k.a. Mr Ibu criticises the Nigerian Government for not providing quality life for the citizenry. But today, despite his debuted album, Mr. Ibu is more at home on screen than in the studio.
Aong the latest entrants are Jim Iyke, Stella Damasus Aboderin, Shan George, Mama G and Desmond Elliot.
Jim's debuted album 'Who Am I', featuring likes of 2face, Yinka Davies and Sound Sultan amongst other acts was widely publicised last year. Unfortunately, the album, judging from the audience responses, did not meet the expectation of the fans of the Nollywood bad boy. But that is not to say, that the actor has not made an impact on the nation's music scene.
Produced by Puffy T and Spoons, the Afro-pop was released on the stable of Untamed Records. Tracks from the album include "Jim Iyke Mania," "Bad Boys Don't Kiss and Tell," "When you point one finger at me four are pointed at you".
Also for some time now, Stella Damasus has shunned the screen to focus on her music career. The star actress is said to have been in the studio, putting finishing touches to her debut album.
It was gathered that the album, which contain about six or eight tracks, hopes to feature she and Sammie Okposo. Recall that at last month's premiere of Ini Edo's 'Memories of my Heart', Stella thrilled the teeming audience that graced the occasion with her soul-stirring souls.
Actress, Shan George and Desmond Elliot recently pitched their tent in music. While Shan released her debut album on the 14th of November 14, in Abuja, Elliot's inspiring song "Ï don't know why he loves me" is currently ruling the airwaves. Equally, Ibinabo Fiberesima is said to have concluded the recording of her "Look Within" single, which is composed for her by Charles Granville.
Looking at the trend, while it is encouraging in a way, and economically rewarding, it's equally a paradigm shift that gives our movie stars the leverage to express the totality of their talents in varied mediums other than acting

Genevieve Nnaji

Shan George

Omosexy

Jim Iyke

Stella Damasus