WESLEY SNIPES SEEKS BAIL EXTENSION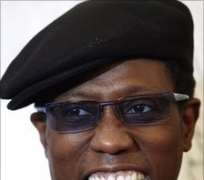 Snipes has been on bail since his conviction in 2008
Wesley Snipes has asked a judge if he can remain free on bail while he pursues a second appeal against a three-year prison term for tax crimes.
Last week, a judge said the 48-year-old Blade actor must begin serving his sentence but no date was set for his surrender.
He has been on bail since appealing against his 2008 conviction for failing to file tax returns.
Prosecutors must respond to Snipes' request by Tuesday
The actor's lawyers argue he has a legal right to bail while they prepare a fresh appeal against his convictions and sentence to the US Supreme Court.
"Mr Snipes has honoured the court's trust before, during trial, as well as pending sentencing and appeal," they said in court documents.
"There is no reason to change the court's judgement now. His ongoing and successful projects in the movie industry further ensure he would not consider fleeing."
Snipes' bail was revoked last week because the actor had lost his appeal to the 11th Circuit Court of Appeal.
The actor's lawyers say he has made headway in resolving his tax problems.
At the time of his convictions in April 2008, prosecutors said Snipes had earned more than $37m (£24m) in gross income between 1999 and 2004, but had not filed tax returns or paid any federal taxes.
On the day of his sentencing, Snipes' lawyers brought to court $5m (£3.2m) in three envelopes which were accepted by agents from the Internal Revenue Service.