TOP FIVE JUNGLES TO HANG WITH ORANGUTANS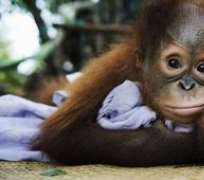 A young orang-utan at forest school, Nyaru Menteng rehabilitation centre. (Christian Aslund/LPI)
There are pockets of vast forest filled with wild and wonderful creatures unique to Indonesia. It is not just the orangutans that hide in these forests; untapped territories reveal unheard of flora and fauna every day. Gibbons hang from forest canopies, thousands of species of birds nest in the trees, and there are also leopards, pygmy elephants, Sumatran tigers, bearded pigs and rhinoceros.
With more than 25,000 orangutans left in the world, experts say that by the year 2023 they will be completely extinct in the wild; tigers and rhinoceros have a lot less time than that. Do not wait until then: here are the top five places you can see orangutans in Indonesia.
Tanjung Puting National Park (Kalimantan, Indonesian Borneo)
This national park is by far and away the most pleasant trip you will make to see orangutans. A three- to four-day boat trip is required to reach the first (and foremost) rehabilitation site, Camp Leakey, where ex-captive orangutans roam freely. Along the way, on a simple Indonesian houseboat or klotok, you will stop at designated feeding sites and spot orangutans, gibbons and proboscis monkeys suspended from the tree tops. This trip is so beautiful that people have been known to get married as the sun sets on their klotok and nothing but fireflies and stars light up the sky.
Kutai National Park (East Kalimantan, Indonesian Borneo)
Forest fires have not destroyed Kutai's resilience. Just a few hours' drive from the eastern capital of Samarinda, orangutans continue to call this forest home. Head to the coastal areas where primate species such as the slow loris, proboscis and leaf monkeys inhabit the peat land forest  and keep eyes primed for sunbears and rare flat-headed cats.
Betung Kerihun National Park (Western Kalimantan, Indonesian Borneo)
This park shares a border with Sarawak, Malaysian Borneo. Adventurous types will love the treks run by the locals from Nanga Potan, a small town near the forest which is only accessible by longboat. Spend a couple of days following wild orangutans through the jungle, after which make your own raft and journey back to the village on the river rapids. Accessible on a flight from Pontianak, Putussibau is the place to organise this adventure of a lifetime.
Nyaru Menteng Rehabilitation Centre (Central Kalimantan, Indonesian Borneo)
This rehabilitation centre has been made famous by the BBC documentary Orangutan Diary. At least 600 ex-captive orangutans reside here to be "rehabilitated" or trained, ready for release into the forest. While you cannot hang out with the babies in training, you can watch them through floor-to-ceiling glass windows. Afterward, take a tour of the dense surrounding forest along boardwalks to see native birds, monkeys and butterflies.  It would be wise to contact the rehabilitation centre before heading out (www.redapes.org/bos-projects/nyaru-menteng). It is based 28km from Palagka Raya in Central Kalimantan.
Gunung Leuser National Park (northern Sumatra)
Sumatran orangutans are a different species to Bornean orangutans; even their appearance is distinct. Sumatran 'rangas posses another shade of auburn locks, and they grow beard-like facial hair. In order to check this out for yourself, you can head to the village of Ketambe, near Medan, where guides offer a variety of treks through the Gunung Leuser National Park. Sadly, it is the only park with a wild population left in Sumatra.