Afolabi Replaces Oronsaye As Head Of Service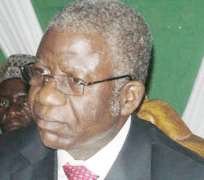 San Francisco, Nov 15, (THEWILL) – Professor Oladapo A. Afolabi has been named the new Head of Service (HOS). He succeeds retiring HOS, Mr. Steve Osagiede Oronsaye.
A statement from the presidency signed by spokesman, Ima Niboro announcing the appointment said:
"President Goodluck Ebele Jonathan has appointed Professor Oladapo A. Afolabi as the new head of the civil service of the federation. Professor Afolabi takes over from Mr. Steve Oronsaye, whose tenure expires tomorrow (Tuesday).
"The new head of service is a professor of applied chemistry, and was until his appointment, the permanent secretary of the ministry of education. He will be sworn in on Thursday. The President thanked Oronsaye, the outgoing head of service, for his stewardship, and wished him good luck in his future endeavors." Mr. Oronsaye who served as HOS since June 2009, after succeeding Ms. Amal Pepple, proposed reforms where permanent secretaries and directors would spend a maximum of eight years in office. The reform which generated a lot of debate amongst civil servants, public office holders and political analysts was eventually approved by the late President Umaru Yar'Adua, which resulted in massive retirement of Permanent Secretaries and Directors, many of whom were Northerners.