My Deputy Governor Office Is 'Useless And Worthless' - Tallen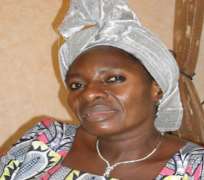 JOS, Nov 14, (THEWILL) - Plateau State Deputy Governor, Dame Pauline Tallen has again examined her over three and half years experience as a Deputy Governor and concluded that the office as it is now, is 'useless and without any worth.'
Tallen said her experience has shown that Deputy Governors are mere stooges for Governors to use to win elections and then dumped thereafter until another election is around the corner.
The Deputy Governor during a chat with journalists in Jos, the Plateau State capital said Plateau State Governor, Mr. Jonah David Jang never valued her advise adding that such was why it became difficult for her to go along with him in his reelection bid.
"It is meaningless deceiving myself that I should go into the second tenure with him because I am just a figurehead," she said.
As I speak now, no senior government official has the courage to come into my office for fear that he may be seen as an enemy of an administration that we all fought together to enthrone," Tallen said adding that she has been under intense pressure to resign from office since her declaration to contest the governorship of the state in the 2011 general election.
Mrs. Tallen said she's however not going to resign as her mandate to serve as Deputy Governor was given to her by the people of the state jointly with the Governor.
She said it's high time people understand 'the hell' she has been put through serving as Deputy Governor which according to her made it difficult to fulfill her electoral promises to the people.
"Deputy Governors are mere campaign instruments who are never allowed a say in governance, their opinions are never sought on issues.
"As a Deputy Governor, nobody seeks your advice much less hearkening to it,'' she added.
She blamed the nation's statute books for such situation and suggested that the constitutional amendment must address the issue by giving specific roles to Deputy Governors.
Mrs. Tallen, however, said that in spite of the lack of constitutional roles for Deputies, both elected officers could still work harmoniously together if there is mutual respect.
"If there is fairness and justice; if there is some mutual respect, there will be no problem. It is when there is injustice that a crisis of confidence begins between Governors and Deputies. If you deny somebody his rights, of course, there will be someresistance, even amongst your children,'' she added, saying she has "forgiven Jang for everything.''