ATIKU: CAN HE TRULY MAKE GOOD THINGS HAPPEN?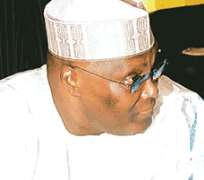 LIFE can sometimes be 'unfair' to some people. Maybe, it's because, in different ways and for different reasons, our circumstances and experiences differ, perhaps remarkably so. It can be a lonely place. And interestingly, every one's circumstance and experience can be a lesson learnt the hard way. Politics is one area where this is very evident. Few politicians in Nigeria today have had the kind of momentum of classic drama that the former vice president (1999 – 2007), Atiku Abubakar has had. It has been for him, a roller-coaster sort of life. His commanding heights measure almost as high as his nadir, politically speaking.
Over the years, in particular, between 1999 and 2007, Atiku must have watched himself many times over. A few niggling questions might have disturbed his soul. For instance, how come, between these years under reference that he had seen himself grow from a substantial political figure whom the president needed around him, and used most times to calm raging storms but later treated by his boss like a disposable napkin?
What to make of this puzzle relates to the rift between Atiku and Obasanjo during the latter's presidency. Early in that presidency, Atiku was regarded as the power behind the throne. There were pressures on him to 'dethrone' his boss. But he resisted the pressures. This is not the hallmark of a typical Nigerian politician.
For what later became public knowledge, Atiku reportedly saved Obasanjo from a looming expendable embarrassment. That clearly shows a disciplined code of loyalty. By letting Obasanjo complete his tenure, and refusing to pull the rug from under the feet of his boss, Mr. Atiku proved himself a consummate politician, a trusted VP and an 'operations man' who carried out his duties with smooth efficiency, regardless of his own presidential prospects. By that singular faithfulness, which is an exception to the contagious trait that has become the occupational disease of many Nigerian politicians, democracy was saved from imminent collapse.
But, what did Atiku get as his 'reward'? It was a sledgehammer. He was pursued from coast to coast; his businesses almost came under foreclosures. Smoking gun was deployed all over, home and abroad, to do him in politically. Indictments were contrived to stop him from contesting election in 2007 and possibly, bring to a sad end, his political ambition. All the Machiavellian tactics were put to test. They all have one common message: 'any harm you do to a man should be done in such a way that you need not fear his revenge'. Atiku lost the presidential election on the platform of Action Congress (AC), now ACN.
He came a distant third. But he did not lose his mind. And now another defining moment is coming feverishly close. The destination is 2011. Each passing day, the atmosphere is becoming febrile, especially within the ruling People's Democratic Party (PDP). Tempers are flaring. It promises to be perhaps the most hotly contested presidential primaries in history. This is sure: the PDP presidential primaries will witness plenty of drama, perhaps surprises, and, the outcome will be hard to predict. It is already tough for all the aspirants.
As Atiku and his camp can tell, it will not be easy running against an incumbent president, who has a lot of war-chest to 'burn'. However, Atiku camp appears supremely confident of winning. A recent poll by a London-based research group, International Institute of Science Research (IISSR) may have buoyed the confidence of Atiku and his confidants. This should worry the camp of the President. The survey shows that in most of the states in the country, the former vice president had cut significantly into President Jonathan's lead. Perhaps the good news for Atiku, and a sad one for President Jonathan is the survey's report that Atiku is shutting some of the doors of the President, indeed, leading the race for the PDP ticket.
If the findings of the survey were true, what were the respondents looking for in the next president of Nigeria? Were they looking for someone with leadership abilities, competence, vision, trustworthiness, or someone who will be quick in recognizing dangers and confronting them rather than wishing them away? Or better still, a president who is kind at heart, one who exudes personality and friendship? Does Atiku have these attributes? The man says he has them, and more. His agenda is to 'make good things happen'. His aides say he knows how to get the best from people, a good quality for a president.
Those who are close to Atiku insist he knows how to exploit the hidden talents in people and nurture them for the benefit of the country. Nigeria of today is like a football club threatened by relegation. It needs a good striker to get it out of the bottom log.
There is no doubt that Nigerians more than ever before, need to be brought together again toward finding a common national purpose. Which is why the country is in dire need of a president who truly can make things happen.
Atiku surely has his own baggage of scandals. But if politicians are to be adjudged on that scale, all of them will be out of work. Atiku maintains that the heart of his message is that government must provide security, job opportunity, health, infrastructure, create wealth and bring peace in the troubled Niger Delta, etc. But people must take responsibility. Another survey by No.1 Polls Ltd., last week claimed that 38 percent of Nigerians consider competence in the next President and only 2 per cent consider ethnicity. So where does the remaining 60 percent Nigerians lean to? The problem remains that of leadership and trust.
Atiku insists he had been close to power, therefore, has the experience to know why presidents run aground in the presidency and therefore fail to deliver on their promise. This, he assures, he will avoid if he is elected the next president.
But, he must first scale the first hurdle. He must beat the incumbent President in the forthcoming PDP primaries. Can Atiku spring that surprise? His camp is bubbling with confidence that such a feat is not beyond what politics can do. The confidence of his camp is hinged on these factors. That none of the aspirants has had the kind of high-octaned meetings that Atiku is currently enjoying with expected delegates. Secondly, his support in the North appears right now, unbeatable.
This is strengthened by the contentious issue of zoning. A recent visit of Atiku to Sokoto state, the unofficial centre of power in the North, speaks volumes of how his presidential aspiration is resonating with the larger population in the North. Besides, and this is instructive: there is alleged lack of sincerity of purpose by some of the coordinators of the President's campaign organization, especially in Bauchi and Katsina states. In Bauchi, for instance, Governor Isa Yuguda who is the President's coordinator in the North East is allegedly working at cross-purposes with his deputy. In Katsina state, where the late President Umaru Yar'Adua, hailed from, the appointment of Governor Shema as the President Jonathan's campaign coordinator is said not be cutting any ice with the electorate in the state.
The governor is alleged not to have got the boldness yet to sell the President's candidacy to anybody. He is said to be afraid of been tagged a 'traitor'. While this is seen as the President's minus, Atiku and other northern Presidential aspirants are said to be benefiting from this 'discontent'.
Also, in Benue state, Governor Gabriel Suswan's reported support for the President is scoffed at as not representing the realities on ground in the state. But the Atiku camp has fears of their own. First is what one of his aides called, 'President Jonathan's proclivity for not keeping to his promise. The concern here is that the president may not deliver a transparent and credible election next year, starting with the PDP presidential Primaries.
This, they allege, might happen, if the President senses that he may not win the primaries in the first ballot. Another deep-seated fear in the Atiku camp is the likelihood that the presidency will deploy huge financial resources to influence delegates. These allegations are common among politicians, because nothing about power is relinquished voluntarily. All in all, the PDP primaries no doubt, is where the action is. It will be a bruising battle like no other political contest before now. Does the odds favour Atiku? Too early to say. But, this will be his biggest political challenge, no doubt.