NAETO C, SASHA, KAS, OTHERS STORM THE DOME FOR OCTAGON RE-LAUNCH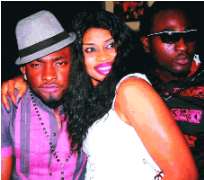 Uti and pals
Abuja, the Federal Capital Territory, will be agog tonite for the re-launch of upscale celebrity hangout, Octagon night club, tucked inside The Dome. To further rev up the long and anticipated evening of fun, relaxation and high wired networking, a total of eight music stars including Naeto C, Sasha and rave act, Kas, of fi mi le fame will all thrill guests and patrons at the re-launch soiree.
The prelude to this outing was the well attended victory party for Big Brother Africa All Stars winner, Uti Nwachukwu, which held on November 5. Although, The Dome had over the years hosted countless celebrities including, Hollywood actor, Wesley Snipes with the VIP lounge in the entertainment house named after him, Uti's fans ensured that the party organized in his honour went down in history as one of the most memorable events held in the capital city.
The party was the talk of the town as fans of the 27 year old model and singer turned reality TV star came in their numbers giving security personnel a hard time controlling those who wanted to take photographs, especially ladies. With Africa's number one DJ, Jimmy Jatt on the wheels of steel, BBA fans who came to celebrate with Uti almost brought the roof down partying hard all through the night.
The party hosted by Soundcity VJ, Illryms got to its climax around 2am, the time the man of the moment decked in his signature federa hat and haute-couture grey and pink linen pants and shirt stepped out to the loud cheers of his fans, they were treated to hours of delightful deejaying as five DJs under the scrutiny of Jatt contested to be crowned 'the Best DJ money can buy'. Although, it was not an occasion for talks, Uti told journalists that he was overwhelmed by the love shown him by Abuja fans, just as he thanked The Dome for making the event a reality.
Speaking on how he felt, Uti said, 'Every time I am hosted to a major event like this I feel honoured.
I feel humbled by the love that comes my way. When you do something you never know the lives that you touch but its moments like this that makes you know that you are appreciated. I am touched by the outpour of love tonight. The turnout is huge and words cannot express my appreciation'.  'Judging by all that went down last Friday today promises to be even more spectacular with established acts taking turns on stage to perform', quipped one of the managers of the club.