THE SUNREPORTER WINS AFRICAN PULITZER PRIZE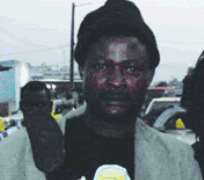 For the second time this year, The Sun has won in Johannesburg, South Africa the first Prize of the prestigious African Investigative Reporting Award 2010, also called the
African PulitzerPrize.
The award won by one of its reporters, Emmanuel Mayah is, according to the organizers, 'in recognition of his work in transnational investigation in Africa.' Mayah is also the PeerReviewer(Nigeria) for the US-based Global Integrity. Last year when the award, modelled after the American Pulitzer Prize made its debut, Mayah emerged the inaugural winner with his investigation of tobacco trafficking across West Africa.
This year's winning piece titled Europe by Desert: Tears of African Migrantsis
an undercover report on the activities of human traffickers in seven countries across the Sahara desert. For 37 days in 2009, Mayah travelled in the company of human traffickers with their human cargoes from Nigeria to Benin Republic, Togo, Burkina Faso, Mali, the notorious Agadez in northern Niger, across the desert and finally, Libya. During this time, he unearthed, recorded and photographed extreme human rights violations committed by traffickers against the trafficked persons, most of whom were women. He unearthed the existence of slave labour in salt mines along the way.
The slaves, who had paid for 'passage to Europe', had simply been abandoned there without any means to contact relatives or return home. His report also detailed the names, dates, photographs and telephone numbers of the human traffickers. Speaking at the occasion, Evelyn Groenink, Director of Forum of African Investigative Reporters (FAIR), the award organizers, said that the idea of the African Pulitzer came last year at a conference in Washington D.C
where the need was pronounced for the emergence of super reporters in Africa.
'Africa is at a critical point where it has become necessary to deploy the very best that it has in every sector. With thieving governments and the global economic meltdown, the future of journalism in Africa as elsewhere is investigative journalism. It is critical in promoting democratization, socio-economic development and their sustenance. At this critical stage, Africa needs super reporters like Emmanuel Mayah who can swim against the tide.
My job is to find such people and to give them necessary supports.'Anas Aremeyaw Anas, from Ghana, scooped his prize -the runner -up- for an undercover report of a very different type. Anas had reported bad management, food theft, drugs trafficking and drugs sales from within Accra's psychiatric hospital. To do the documentary, Anas checked himself in as a psychiatric patient and had even gone as far as swallowing some psychotropic drugs when doctors pre scribed these to the 'patient'.
Aspecial mention went to Namibian John Grobler, who worked for more than a year on an investigation into the looting of tourism resources by some people within the country's governing elite. The result from painstakingly searching for
and going through heaps of company and government documents, was a story and a diagram that clearly showed how once profitable resorts had fallen into the hands of individuals who only obtained them to enrich themselves, to the detriment of the country's tourism income.
The Editors' Courage Award went to Kenyan Standardeditor, John Bundotich, who withstood pressure from government and intelligence services who had warned him not to publish an investigation into election fraud by the governing party.
Bundotich, however, defended the story, researched and written by reporter Kipchumba Soome, and had published it nevertheless. For his winning work, Mayah, who has so far won 19 media awards, was crowned the 'AntiHuman Trafficking Ambassador' in August this year by the federal agency NAPTIP. At a special ceremony in Abuja attended by officials of the Swiss Embassy, the Netherland Embassy, the British Council and the United Nation Interregional
Crime and Justice Research Institute (UNICRI), Mayah was named mbassador 'in recognition of your effort towards combating human trafficking in N i g e r i a .