NEMA Predicts Higher Accident Rates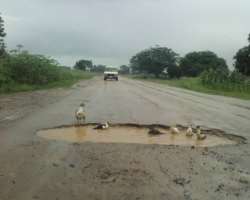 he National Emergency Management Agency (NEMA) has identified road traffic accidents as a major cause of socio-economic disorder and enjoined all statutory agencies charged with the responsibilities of enforcing highway codes to enforce the code provisions strictly in order to stem the carnage on our highways.
The Assistant Zonal Coordinator of NEMA, Mr. Apollos Jediel stated that road traffic fatalities are forecast to increase over the next 10 years from a current level of more than 1.3 million yearly to more than 1.9 million by year 2020. While the over 50 million figures of injured victims annually will also increase as well.
He made the call while addressing the Zonal Staff of the Agency on assumption of duty and receiving some delegations of NGOs in his Office separately at the weekend who paid a condolence visit to the Zonal Office over the death of the immediate past Zonal Coordinator, Hajiah Fatimah Usman who died recently with her children through road crash.
"These hidden road casualties and injury epidemics which takes away our agile and skilled manpower is a crisis for public health and a major contributor to the causes of poverty. Therefore, it is high time we treat it as a national emergency as we are daily being confronted by an epidemic that kills and maims on the scale of major infectious diseases like malaria, tuberculosis and HIV/AIDS." he appealed.
Mr. Jediel identified the menace of petroleum tankers', trailers, and large-and-slow moving vehicles' drivers as the major cause of road accidents in the country.
Mr. Jediel in his address stated that over 70% of road accidents can be prevented, if Petroleum tankers, trailers and large-slow moving vehicles' drivers adhere to section 15 of the Code.
Citing section 15 of the code that states, "It is an offence for large and slow moving vehicles to allow smaller or fast moving vehicles queue behind it whenever the driver can pull over safely to make way for other vehicles".
The Assistant Zonal Coordinator stated that NEMA observed that large and slow moving vehicles do not care about the highway regulations that stressed the need for them to pull-in and slow down or stop as soon as it is safe to give fast moving vehicles a chance to overtake them safely.
Efforts by small and fast moving vehicles, which may at times be close to 20 queuing behind a trailer or slow moving vehicles most times lead to multiple and fatal accidents as the smaller vehicles struggle to outwit one another, he posited.
On this same vein, Mr. Jediel drew the attention of the Federal Road Safety Corps' on the provision of Section 26 on the indiscriminate parking of Petroleum Products' tankers, Trailers, Trucks etc. on our highways.
Non-compliance to this provision, he said, also constitutes another major obstruction to other road users as parking on both sides of the road at the same time (simply called 'double parking') causes hindrance to free movement of other vehicles. The nation has lost several lives and valuables because of accident at the converging spots in various part of the country.
However, Assistant Zonal Coordinator has called on motorists and other road users to call the attention of the security enforcement agencies' personnel on any erring or reckless drivers for appropriate sanction to be meted against such drivers who constitute danger to other road users.
|
Article source