Joke Silva's delightful pairing with KemKemStudio shot by Toni Tones for Elan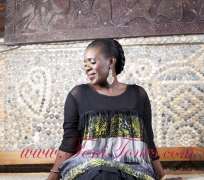 With hundreds of stage plays and movies on her resume, Nigerian actress Joke Silva is a respected veteran. She has enjoyed a long and fulfilled stint in the limelight. Ms Silva (or Mrs Jacobs as you wish) isn't resting on her oars.
She recently collaborated with label KemKemStudio for a fashion spread which was shot by photographer Toni Tones and featured in Elan – the Fashion Insert of Next on Sunday Newspaper.
With her hair styled into an braided updo, Ms Silva wore a selection of KemKemStudio pieces.She went from girly – in an asymmetrical knee length ankara dress to edgy yet elegant in a beige and black silk print jumpsuit.
This is a positive collaboration and there are lots of possibilities. We have seen most of these pieces in previous KemKemStudio collections, would be great if she and Ms Silva collaborate for a special collection featuring all new pieces. These sort of collaborations between the movie and fashion industry will definitely contribute towards the development of both industries.
Thanks to joke silva, kemkemstudio, Toni Tones