I DEFEATED EVERY PROFESSIONAL WRESTLER IN NIGERIA – BABA MUTUM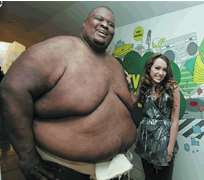 Okeke
Hundreds of sumo wrestlers of various nationalities earn comfortable livelihoods, participating in matches not only in Japan, but in Europe and North America. As the sport continues to grow, African interest's spotlight is on Nigeria born Emeka Okeke, first African sumo wrestler, who recently set up sumo wrestling academy in Nigeria.
Nigerian born-Ben Emeka Okeke aka Baba Mutum was a former professional wrestler, he was the undefeated super heavyweight champion for three years. He defeated the great Ajaloko the giant and was unbeaten throughout his reign, 1992-95. During his professional wrestling days, he was fierce and knocked out most of his opponents.
Baba Mutum left professional wrestling for Sumo when no one could step up to him. According to him, 'I quit because I ran out of Challenge.' 'At a time I was asked to fight two wrestlers'. Confident of his strength and agility, he travelled to far away Japan to engage the Japanese in their own traditional sport, the Sumo Wrestling. On getting to Japan, he enrolled into the University of Japan Sumo College to learn the rudiments of the sport. In no time, he became a leading sumo wrestler, and being the first African sumo wrestler, fans trooped out to watch his matches.
Baba Mutum became a Japanese subject known for his powerful grip. He was formidable at Oshi-Zumo in Japanese meaning ability to push your opponents with hands. He continued to fight in yearly championship representing Nigeria, until this Rikishi got injured in a fight. Rikishi literally in Japan means 'strong man'. Before getting injured, he has fought prominent sumo wrestlers among whom is Yeh Kun- Fang of Taiwan.
Baba Mutum, has, however, set up a sumo academy in Eastern Nigeria, where teenagers are taught how to fight Sumo. Periodic sumo wrestling demonstrations are performed to woo fans and interested athletes. Baba Mutum formed the Nigerian Sumo Association, which is affiliated to the International Sumo Federation (ISF). Wrestlers in the sumo academy have the opportunity to become professional sumo wrestlers, and are being invited to Japan for annual sumo championship. Funding has been one of the problems affecting the academy. Since the inception of the academy, it has been funded by Baba Mutum, with little or no help from Government authorities.
However, health problems that have plagued sumo wrestlers for decades have also prevented Baba Mutum from moving around to get private sponsors for the academy. His ailment is as a direct result of rapid and excessive weight gain. He is currently in the United States to undergo an intestinal bypass surgery to remove excess body fats, after which he hopes to re-launch the sumo academy. One of his dreams is to include sumo wrestling in the Annual Nigerian sports festival.