UNSHAKEABLE KINGDOM PREMIERES NOV. 13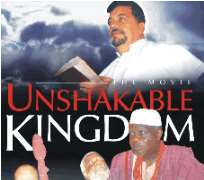 With a divine mission to further propagate the gospel through movies, Maranatha Pictures, the drama arm of The Redeemed Evangelical Mission (TREM), is poised to dazzle movie buffs with the world premiere of its latest movie.
Entitled: Unshakeable Kingdom, the heart-wrenching epic produced by Don Pedro Aganbi, sensationally starred veterans such as: Justus Esiri, Peter Fatomilola, Afeez Oyetoro and a host of other promising acts from Maranatha. According to Aganbi, the premiere, which he promised would be an exceptional evening of fun, relaxation and social networking holds on November 13, at the posh Eko Hotel and Suites, Victoria Island, Lagos.
Speaking further, youthful Aganbi, who's also the head of Maranatha Pictures, which Bishop Mike Okonkwo, the General Overseer of TREM, founded in order to contribute meaningfully to the growth and development of the nation's entertainment industry, said the movie would definitely change and affect lives positively, when released. Shedding more light on the storyline of the big budget movie directed by Muyideen Ayinde, Aganbi, an ICT expert, disclosed that it thematically centres around a King who fell out of favour with his subjects for secretly supporting the works of some missionaries that came to his kingdom.
'The intrigues, suspense, backstabbing and unending battles that greeted the King's support for the missionaries were the ingredients that truly stand this religious epic out from the rest. Above all, the reason we embarked on the this special project was basically to preach the gospel in places it has never been preached before and we are sure it will make the required impact by winning more souls for Christ,' he explained.
Commenting further, excited Ayinde, who directed the monster hit Yoruba movie, Jenifa, disclosed that Unshakeable Kingdom was his first English movie as a director, adding that the experience was splendid and memorable.'Sincerely, the challenges were not much on set, because the lead acts in the movie were all professionals.
Except for some members of the Church that needed a lot of direction on set and the fact that it was a bit tough directing a large cast in the village scenes, other things went well and we really thank God for that. Let me quickly confess that this movie is not a common one, its a unique and divinely inspired work.' Meanwhile, Maranatha Pictures, which has produced several movies and soaps, released its first flick in 1995. It continually strives to preach the word through movies, teaching morals and setting standards.