I WILL NEVER PLAY POLITICS WITH ABUJA BOMB BLAST – JONATHAN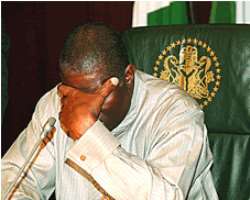 Jonathan
President Goodluck Jonathan yesterday said he has not and will never play politics with the twin bomb blast that wreaked havoc during the celebration of the nation's Golden Jubilee on October 1, in Abuja. Speaking at the commissioning of the newly purchased Advanced Bell 412 EP, IFR combat helicopters and seven vehicles for the Nigeria Police in Abuja, President Jonathan said no stone would be left unturned to unmask the perpetrators of the blast, adding, that those responsible would be made to face the law.
While expressing his administration's commitment to the provision safe and secured environment for the citizenry, the President called on security agencies in the country, especially the Police to brace up to the enormous  security challenges in the country.
'I will like to use this opportunity to reiterate to all Nigerians that this administration is fully resolved to carry out a diligent and thorough investigation into the dastardly bomb blast of October 1 in Abuja. ' It's a duty we owe our nation and our dear brothers and sisters who lost their lives on that fateful day.
'It's a duty we will execute to all logical conclusions. I have never played politics with it; will never play politics with it and I call on other Nigerians not to play politics with it. It is a serious crime against the nation and must be accorded the seriousness it deserves,' the President stated.
He however urged the Police to put the equipment into effective use.
Earlier in an address, the Minister of Police Affairs, Adamu Maina Waziri disclosed that the 'the combat helicopters are a twin engine 15 seated combat aircraft installed with armour plate protection for both the pilot and passengers. The helicopter is fitted with a 16 million candle light dismountable searchlight that enables it to undertake nocturnal surveillance operation. Its sophisticated radar avionic makes it also installed with auto-pilot capability for enhanced performance.