Gusau To Aspirants: Play By The Rules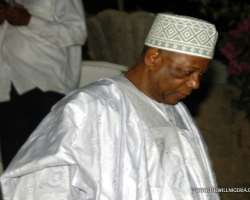 PHOTO: PRESIDENTIAL ASPIRANT OF THE PDP, GENERAL ALIYU GUSAU MOHAMMED.
ABUJA, Oct 19, (THEWILL) - Immediate past National Security Adviser (NSA), Gen. Aliyu Gusau Mohammed (rtd) today called on aspirants in the coming PDP primaries to carry out their campaigns in a manner that befits well-bred politicians, just as he inaugurated his campaign team comprising state and zonal coordinators, while he enjoined them to display decency and respect for the sensibilities of all Nigerians in carrying out their assignments.
"This is a political project, no doubt, but it is a project that I want us to collectively pursue in a manner that will attract needed credibility and respect to our course," he said.
"I am sure you are familiar with my antecedents, which totally abhor divisive and negative political campaigns. I'm firmly persuaded that decency and honour must undergird all that we do. At all times, we must put Nigeria first.
"In pursuing this assignment, I urge you to respect the rules of engagement of our party, identify party delegates to our party primaries and seriously but respectfully interface with them. Be mindful of the sensitivities of others and please ensure that you do not in any way resort to vexatious practices with scant regards for the feelings of other co-contestants within our party," the former spy chief added. Gusau lamented that Nigeria had in the past gone through unhealthy administration sustained by base values and brazen pecuniary considerations which according to him had been responsible for the dashed expectations and repeated failures in the polity in spite of "our sprawling human and material resources."
"We need to undertake a radical departure from the murky waters of convoluted politics and run decent and all-encompassing people-oriented campaigns that admirers and non-admirers alike can readily key into," he admonished, citing the intriguing campaign that produced America's Obama as a model for all politicians to emulate.
The Director General of his campaign organization, Senator Ben Obi had earlier explained that the meeting was to present the campaigners with the modalities for their job as well as to make the necessary arrangements for the state tours of the presidential aspirant ahead of the primaries.
"You need to know and let the delegates know too that our principal, Gen Aliyu Mohammed Gusau, has all the necessary leadership credentials and potentials needed to put Nigeria first and then take it to its next level among civilized and developed nations of the world from 2011."